Catalogs

>

Retsch

>

MM 500 nano
Catalog excerpts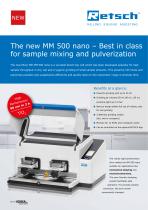 The new MM 500 nano – Best in class for sample mixing and pulverization The new Mixer Mill MM 500 nano is a versatile bench-top unit which has been developed specially for high sample throughput in dry, wet and cryogenic grinding of small sample amounts. This powerful mill mixes and pulverizes powders and suspensions efficiently and quickly down to the nanometer range in shortest time. Benefits at a glance: n Powerful grinding with up to 35 Hz n New jar design allows full use of volume, also for wet grinding n 3 different grinding modes (dry, wet or cryogenic) n Memory for 12 SOPs and 4 program cycles n Can be controlled via the optional RETSCH App The robust high-performance drive makes the MM 500 nano suitable for applications like mechanical alloying and mechanochemistry. The user-friendly clamping system facilitates safe operation. For periodic sample extraction, the jars remain conveniently clamped.
Open the catalog to page 1
Fields of application Feed material Mechanochemistry, mechanical alloying, size reduction, mixing, homogenization, cell disruption, cryogenic grinding As the leading solution provider for sample preparation equipment, Agriculture, biology, chemistry / plastics, construction materials, engineering / electronics, environment / recycling, food, geology / metallurgy, glass / ceramics, medicine / pharmaceuticals, material science RETSCH has taken operating convenience to the next level and hard, medium-hard, soft, brittle, elastic, fibrous created the new RETSCH App. This tool makes working with...
Open the catalog to page 2
All Retsch catalogs and technical brochures
Compare up to 10 products