Catalogs

>

RETSCH

>

TM500
Catalog excerpts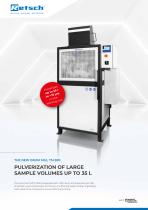 rizes ulve 5 l P o3 up t µm  15 to < e in on un ng r orki w PULVERIZATION OF LARGE SAMPLE VOLUMES UP TO 35 L The new Drum Mill TM 500 is equipped with a 150 l drum and pulverizes up to 35 l of sample to grind sizes below 15 microns. A sufficiently large number of grinding balls needs to be employed to ensure effective grinding.
Open the catalog to page 1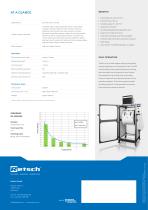 Size reduction, mixing activated carbon, alloys, bentonite, bones, carbon fibers, catalysts, cellulose, cement clinker, ceramics, chemical products, clay minerals, coal, coke, compost, concrete, . , , . , electronic scrap, fibers, gypsum, glass, hair, hydroxyl apatite, Typical sample materials kaolin, lime stone, metal oxides, minerals, ores, paint and varnish, paper, pharmaceutical products, pigments, plants, polymers, quartz, seeds, semi-precious stones, sewage sludge, slag, soil, tissue, tobacco, waste, wood, etc. Feed material soft, hard, brittle, fibrous I Initial feed size up to 20 mm...
Open the catalog to page 2
All RETSCH catalogs and technical brochures

Compare up to 10 products