Catalogs

>

M e d - e B a s e v 2 . 0
Catalog excerpts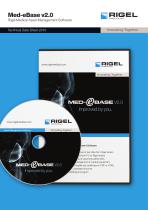 Rigel Medical Asset Management Software Technical Data Sheet 2010 Innovating Together Innovating Together Innovating Together oad of test data from Rigel testers •d from PC to Rigel testers g of upcoming safety tests anagement of medical equipment 'misable test certificates in PDF or HTML database structure Multilingual program
Open the catalog to page 1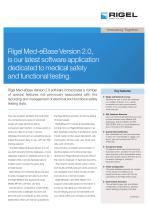 Innovating Together Rigel Med-eBase Version 2.0, is our latest software application dedicated to medical safety and functional testing. Rigel Med-eBase Version 2.0 software incorporates a number of special features not previously associated with the recording and management of electrical and functional safety testing data. This new program facilitates the production the Rigel Medical products for fast re-testing of a comprehensive series of advanced results and data reports including Med-eBase V2.0 stores all traceable data comparison alert function. A unique option to coming from our Rigel...
Open the catalog to page 2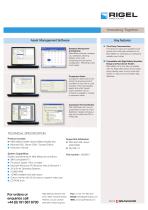 Database Management Med-eBase properly manages your database, allowing efficient work order scheduling and test device configuration. Retesting is also much easier. Comparison Alerts during the download which provides the user with a quick assets and which assets increase in leakage or change Third Party Communication This allows for easy and straightforward access from third party software to our Med-eBase V2, extending our software's usability even further. Compatible with Rigel Safety Simulator Range and Functional Testers Med-eBase V2 is now fully compatible with our Rigel safety tester...
Open the catalog to page 3
All RIGEL Medical catalogs and technical brochures

Archived catalogs

Compare up to 10 products