Catalogs

>

RSP ISQUIO SPORT
Catalog excerpts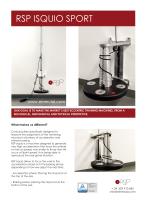 www.einercial.com OUR GOAL IS TO MAKE THE MARKET´S BEST ECCENTRIC TRAINING MACHINES, FROM A BIOLOGICAL, MECHANICAL AND PHYSICAL PERSPECTIVE. What makes us different? Conical pulley specically designed to improve the adaptation of the hamstring muscles in situations of acceleration and intense braking. RSP Isquio is a machine designed to generate very high accelerations that force the athlete to train at speeds very similar to those that will occur at Sprint speed, thus being able to reproduce the real game situation. RSP Isquio allows to focus the work in the acceleration phase or in the braking phase depending on how we adjust the machine: - Acceleration phase: Placing the stop knot at the top of the axis. - Braking phase: placing the stop knot at the botton of the axis.
Open the catalog to page 1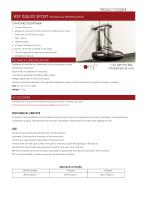 RSP ISQUIO SPORT TECHNICAL INFORMATION STANDARD EQUIPMENT 1 . Chassis RSP Isquio. 4 . Masses of aluminium (10 % moment of inertia every mass). 1 . Inside rail (to fit 0 of the cone). 1 . Grip ankle. 2 . Harken pulleys. 4 . m rope ( Dyneema 6 mm ). 4. Screws (to fx the machine to the wall). 1 . 120 cm high rail (to adjust the output block). 1 . Installation manual. Designed to improve the adaptation of the hamstring muscles. Made from aluminium. Rope without coeffcient of elasticity. Low-friction bearings and high quality pulleys. Weight adjustment on the cone radius. Moment of inertia...
Open the catalog to page 2
All RSP Inercial performance catalogs and technical brochures
Compare up to 10 products