Catalogs

>

M194
Catalog excerpts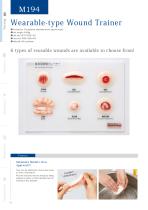 M194 Wearable-type Wound Trainer ●Accessories: Transparent attachment belt, special stand ●Unit weight: 0.45kg ●Unit size: W37×D26×H2 ●Case size: W39×D28×H5 ●Material: Soft urethane 6 types of reusable wounds are available to choose from! Sakamoto Model's New Approach!! They can be attached to the human body or onto a mannequin. Plus the viscosity returns simply by being washed in water, so that repeated use for training is also possible.
Open the catalog to page 1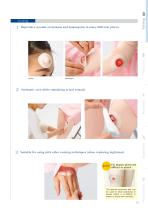 Reproduce wounds on humans and mannequins in many different places. Antiseptic care while simulating actual wounds. Suitable for using with other nursing techniques (when replacing nightwear) For places which are difficult to attach The special accessory belt can be used to allow practising in places where it is difficult to attach to actual skin surfaces.
Open the catalog to page 2
All Sakamoto Model Corporation catalogs and technical brochures

Compare up to 10 products