Catalogs

>

Sarstedt

>

Conversion of the Pipette Tip Product Range
Catalog excerpts
Diese Publikation kann Informationen zu Produkten enthalten, die evtl. nicht in jedem Land verfugbar sind Technische Anderungen vorbehalten Umstellung Pipettenspitzen Das Pipettieren von Flussigkeiten ist ein praziser Vorgang der hohe Anforderung an das eingesetzte Material stellt. Zur Verbesserung der Prazision und Handhabung entwickelt Sarstedt daher kontinuierlich neue, moderne Pipettenspitzen. Sie ermoglichen durch maximale Kompatibilitat und Konformitat zu einer Vielzahl von Pipettoren nicht nur Genauigkeit sondern auch komfortable Handhabung im Laboralltag. Auf Grund dieses Anspruchs nehmen wir zwei 10 pl-Spitzen zum Ende des Jahres 2016 aus unserem Produktprogramm. Sie konnen durch die unten angegebenen Spitzen ersetzt werden.
Open the catalog to page 1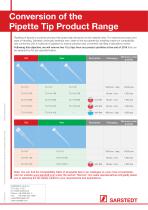 Conversion of the Pipette Tip Product Range Pipetting of liquids is a precise process that poses high demands on the material used. For improved accuracy and ease of handling, Sarstedt continually develops new, state-of-the-art pipette tips enabling maximum compatibility and conformity with a multitude of pipettors to ensure precision and convenient handling in laboratory routine. Following this objective, we will remove two 10 pi tips from our product portfolio at the end of 2016 that can be replaced by the tips specified below. Description Packaging Minimum order quantity 15-760-0100-142...
Open the catalog to page 2
All Sarstedt catalogs and technical brochures

Archived catalogs

Compare up to 10 products