Catalogs

>

Sarstedt

>

ELISA Plates
Catalog excerpts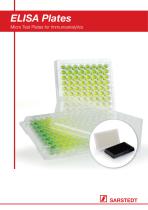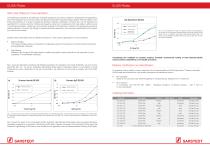 ELISA Plates ELISA Plates Micro Test Plates for Immunoanalytics Sarstedt offers ELISA plates with two different surfaces for a wide range of applications in immunoanalytics: IL8 Sandwich ELISA Medium Binding High Binding Comprehensive analyses for the detection of defined substances are critical in research, development and diagnostics. One of the analyses most commonly used is the Enzyme-Linked Immunosorbent Assay (ELISA). With this method, even small concentrations of a range of substances (proteins, peptides, antibodies, hormones etc.) can be detected and quantified from complex solutions....
Open the catalog to page 2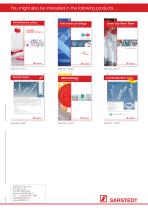 You might also be interested in the following products… Cell and tissue culture Cell Cultivation, Cryogenic Storage, Filtration, Liquid Handling Screw Cap Micro Tubes Certified High-Quality Products for PCR, Molecular Biology and Research For transport, storage and sample preparation Liquid Handling Reliable quality and versatility Forensic Swab in a transport tube with ventilation membrane Low Binding Micro Tubes NEW! Sampling, processing and cultivation Technical modifications reserved Maximum purity for optimal safety in preanalytics The new Forensic Swabs from Sarstedt are suited for the...
Open the catalog to page 3
All Sarstedt catalogs and technical brochures

Archived catalogs

Compare up to 10 products