Catalogs

>

Sarstedt

>

Freezing tubes
Catalog excerpts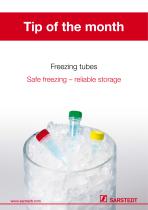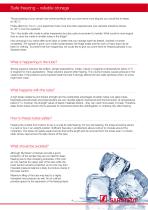 Safe freezing – reliable storage The processing of your sample has worked perfectly and you have some more aliquots you would like to freeze at -80° C. Friday afternoon, 8 p.m., your experiment took more time than expected and your samples should be stored at -20° C over the weekend. The 1-litre bottle with media is rather inexpensive but also quite inconvenient to handle. What could be more logical than to store the media in smaller tubes in the fridge? How annoying if you notice after some days or weeks that your storage tube has leaked, cracked or broken completely. The sample is gone,...
Open the catalog to page 2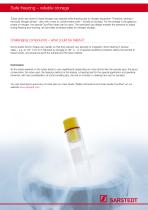 Safe freezing – reliable storage Tubes which are stored in liquid nitrogen can explode while thawing due to nitrogen expansion. Therefore, storing in the liquid nitrogen phase – also with a view to contamination risks – should be avoided. For the storage in the gaseous phase of nitrogen, the special CryoPure tubes can be used. The optimized cap design enables the pressure to adjust during freezing and thawing, and provides increased safety for nitrogen storage. Challenging compounds – what could be helpful? Some liquids tend to freeze very rapidly so that they expand very abruptly or...
Open the catalog to page 3
All Sarstedt catalogs and technical brochures

Archived catalogs

Compare up to 10 products