Catalogs

>

Sarstedt

>

Growth surfaces for cells
Catalog excerpts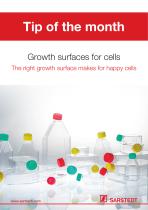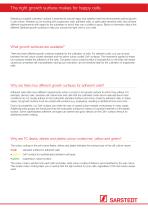 The right growth surface makes for happy cells Selecting a suitable cultivation surface is essential to ensure happy and satisfied cells that demonstrate optimal growth in cell culture. Whether you're working with suspension cells, adherent cells, or particularly sensitive cells, they all have different requirements with regard to the substrate on which they can or prefer to grow. Below is information about the different Sarstedt growth surfaces to help you choose the right one for your cells. What growth surfaces are available? There are three different growth surfaces available for the...
Open the catalog to page 2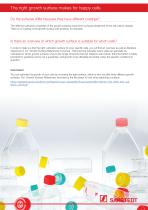 The right growth surface makes for happy cells Do the surfaces differ because they have different coatings? The differing cultivation properties of the growth surfaces result from a physical treatment of the cell culture vessels. There is no coating of the growth surface with proteins, for example. Is there an overview of which growth surface is suitable for which cells? In order to help you find the right cultivation surface for your specific cells, you will find an overview as well as literature references in our 'Growth Surface References' brochure. This brochure indicates which cells...
Open the catalog to page 3
All Sarstedt catalogs and technical brochures

Archived catalogs

Compare up to 10 products