Catalogs

>

Sarstedt

>

HAEM-o-TRANS
Catalog excerpts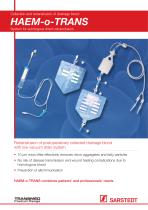 Collection and retransfusion of drainage blood HAEM-o-TRANS System for autologous direct retransfusion Retransfusion of postoperatively collected drainage blood with low vacuum drain system • 10 µm micro filter effectively removes micro aggregates and fatty particles • No risk of disease transmission and wound healing complications due to homologous blood • Prevention of alloimmunisation HAEM-o-TRANS combines patients' and professionals
Open the catalog to page 1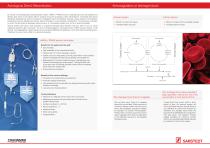 By means of the postoperative autotransfusion system HAEM-o-TRANS wound or drainage blood can be collected and directly given back to the patient without washing during the autologous direct retransfusion. Unwashed shed blood effectively decreases the need for transfusion of allogenic blood and therefore reduces various hazards of homologous transfusions such as disease transmission, alloimmunisation or wound healing complications. The main types of surgery for which this technique is especially useful include e. g. orthopaedic surgery such as hip or knee arthroplasty. Several studies have...
Open the catalog to page 2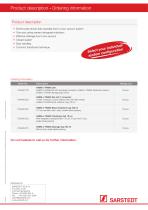 Product description • Ordering information Product description • • • • • • Erythrocytes remain fully operable due to a low vacuum system One-way valves prevent retrograde infections Effective drainage due to low vacuum Closed system Easy handling Common transfusion technique idual r indiv ion you Select configurat system Ordering information HAEM-o-TRANS Set with Y connector Y-drain connector, suction bellows with anti-reflux barrier, HAEM-o-TRANS blood collection bag 700 ml HAEM-o-TRANS Blood collection bag 700 ml 175 µm pre-filter, return stop, double sterile packing HAEM-o-TRANS...
Open the catalog to page 3
All Sarstedt catalogs and technical brochures

Archived catalogs

Compare up to 10 products