Catalogs

>

Sarstedt

>

HCTS 2000 MK2
Catalog excerpts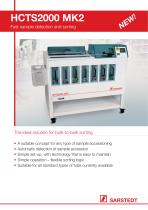 HCTS2000 MK2 Fast sample detection and sorting The ideal solution for bulk-to-bulk sorting • • • • • A suitable concept for any type of sample accessioning Automatic detection of sample accession Simple set-up, with technology that is easy to maintain Suitable for all standard types of tube currently available
Open the catalog to page 1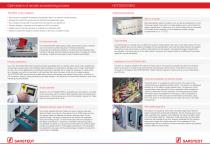 Optimisation of sample accessioning process Each sample's accession is detected automatically; there is no need for manual scanning Samples are sorted into groups and can be further processed right away Error samples (no barcode or barcode cannot be read etc.) are picked out Process reliability is improved and the lead time (TAT) is shortened Add-on modules Many laboratories need to be able to carry out primary distribution to more target compartments. Furthermore, up to three modules can be connected to the basic device, enabling you to increase the number of target compartments to 12, 17...
Open the catalog to page 2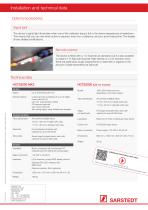 Installation and technical data Options/accessories Signal light This means that you can see when action is required, even from a distance, and you avoid losing time. The display Barcode scanner to install a 1-D Barcode Scanner High Density or a 2-D Scanner when there are particularly tough requirements to meet with in regards to the amount of data transmitted via barcode. Technical data HCTS2000 MK2 Sorting 1500–2000 tubes per hour, depending on the basic device Sorting criterium Linear barcodes consisting of up to 30 digits: Query with the LIS, All currently available tubes 75 mm–120 mm...
Open the catalog to page 3
All Sarstedt catalogs and technical brochures

Archived catalogs

Compare up to 10 products