Catalogs

>

Sarstedt

>

More precise real-time PCRs with white PCR tubes
Catalog excerpts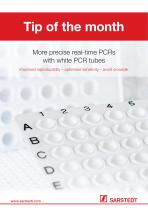 Tip of the month More precise real-time PCRs with white PCR tubes Improved reproducibility – optimised sensitivity – avoid crosstalk
Open the catalog to page 1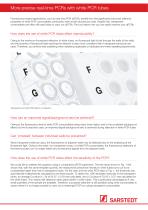 More precise real-time PCRs with white PCR tubes Fluorescence-based applications, such as real-time PCR (qPCR), benefit from the significantly improved reflective properties of white PCR consumables, particularly when small volumes are used. Despite this, transparent consumables are often still used today to carry out qPCRs. Find out below how you can easily improve your qPCRs. How does the use of white PCR tubes affect reproducibility? Owing to the maximum fluorescent reflection of white tubes, no fluorescent light is lost through the walls of the wells, and the quantity of fluorescent...
Open the catalog to page 2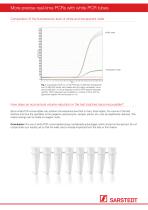 More precise real-time PCRs with white PCR tubes Comparison of the fluorescence level of white and transparent wells White wells Transparent wells Fig.1 Comparative PCR run of the PCR strip 72.985.002 (transparent) and 72.985.092 (white), each sealed with the highly transparent cover strip 65.989.002. A 100 bp fragment of the EmGFP plasmid (template quantity 1000 molecules) was amplified in a volume of 20 µl with the Eppendorf realplex 4S thermocycler (n= 8). How does an economical volume reduction in the test batches become possible? Since white PCR consumables can achieve a fluorescence...
Open the catalog to page 3
All Sarstedt catalogs and technical brochures

Archived catalogs

Compare up to 10 products