Catalogs

>

Sarstedt

>

White Multiply
Catalog excerpts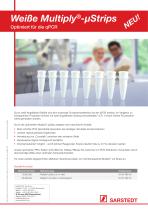 Diese Publikation kann Informationen zu Produkten enthalten, die evtl. nicht in jedem Land vefugbar sind Technische Anderungen vorbehalten Durch weiB eingefarbte GefaBe wird eine maximale Fluoreszenzreflektion bei der qPCR erreicht. Im Vergleich zu transparenten Produkten konnen mit weiB eingefarbten Verbrauchsmaterialien i.d.R. 10-fach hohere Fluoreszenz-werte gemessen werden. Durch die optimierten Multiply®-jStrips ergeben sich beachtliche Vorteile: • Stark erhohte PCR-Sensitivitat besonders bei niedrigen Template-Konzentrationen • Leichter reproduzierbare Ergebnisse • Vermeidung von "Crosstalk" zwischen den einzelnen Wells • Verbessertes Signal / Hintergrund Verhaltnis • Volumenreduktion moglich - somit konnen Reagenzien-Kosten deutlich (bis zu 40 %) reduziert werden Unsere optimierten PRC-Ketten sind DNA-frei, DNase / RNase-frei sowie frei von PCR-Inhibitoren und erzielen durch dunnwandige Wells einen optimalen Temperaturtransfer. Fur einen perfekt abgestimmten effektiven Verschluss bieten wir hochtransparente Multiply® Lid Strips an.
Open the catalog to page 1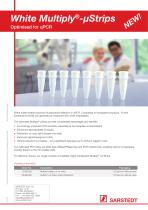 747a-142 This document may contain information on products that may not be available in particular countries Technical modifications reserved White Multiply®-pStripsOptimised for qPCR White tubes enable maximum fluorescence reflection in qPCR. Comparing to transparent products, 10-fold fluorescence levels can generally be measured with white disposables. The optimised Multiply®-pStrips provide considerable advantages and benefits: • Convincingly improved PCR sensitivity especially at low template concentrations • Enhanced reproducibility of results • Prevention of cross talk between...
Open the catalog to page 2
All Sarstedt catalogs and technical brochures

Archived catalogs

Compare up to 10 products