Catalogs

>

myTAP™
Catalog excerpts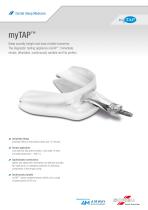 Dental Sleep Medicine myTAP™ Sleep soundly tonight and have a better tomorrow. The diagnostic testing appliance myTAP™: immediate, simple, affordable, continuously variable and fits perfect. Immediate fitting Individual fitting in the practice takes just 15 minutes. Simple application Just soak the two splints shortly in hot water, fit them and adjust protrusion – that's it. Sophisticated construction Splints and adjustment mechanism are delicate and light. No metal parts, no allergenic potential, no disturbing components in the tongue cavity. Continuously variable myTAP™ allows complete lateral mobility and a range of advancement of 20 mm.
Open the catalog to page 1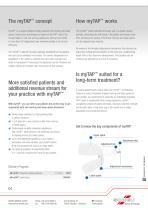 myTAP™ is a simple, patient-friendly treatment for snoring and sleep apnea. Construction and design are based on the TAP® splint, the market leader in oral anti-snoring appliances, having been tested in more than 32 independent peer reviewed studies on its clinical efficiency. The myTAP™ splint maintains the lower jaw in a stable forward position, preventing the soft tissue in the palate and tongue cavity from narrowing the airway in the throat. Snoring and sleep apnea can be stopped resp. reduced. The myTAP™ material has been specially developed for this application and can be softened in...
Open the catalog to page 2
All Scheu-Dental GmbH catalogs and technical brochures

Compare up to 10 products