Catalogs

>

Product Data Sheet CA® Pro
Catalog excerpts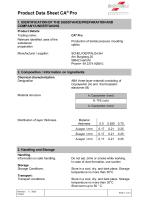 1. IDENTIFICATION OF THE SUBSTANCE/PREPARATION AND COMPANY/UNDERTAKING Product Details Trading name: Relevant identified uses of the substance/ preparation Manufacturer / supplier: CA® Pro Production of dental pressure moulding splints SCHEU-DENTALGmbH Am Burgberg 20 58642 Iserlohn Phone+ 49 2374 9288 0. 2. Composition / information on ingredients Chemical characterization Designation ABA three-layer material consisting of Copolyester (A) and thermoplastic elastomer (B) Material structure Distribution of layer thickness A: Copolyester (hard) B: TPE (soft) A: Copolyester (hard) Material thickness 3. Handling and Storage Handling Information on safe handling: Do not eat, drink or smoke while working. In case of dust formation, use suction Storage Storage Conditions: Store in a cool, dry, and dark place. Storage temperature no more than 30°C Transport: Transport conditions: Store in a cool, dry, and dark place. Storage temperature no more than 30°C Short-term up to 50 ° C.
Open the catalog to page 1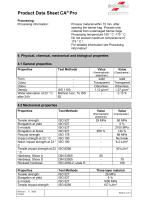 Product Data Sheet CA® Pro Processing: Processing information: Process material within 15 min. after opening the barrier bag. Process only material from undamaged barrier bags Processing temperature 150 ° C -175 ° C. Do not exceed maximum temperature of 175 ° C ! For detailed information see Processing information! 4. Physical, chemical, mechanical and biological properties
Open the catalog to page 2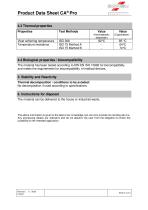 Product Data Sheet CA® Pro4.3 Thermal properties Properties 4.4 Biological properties / biocompatibility The material has been tested according to DIN EN ISO 10993 for biocompatibility and meets the requirements for biocompatibility of medical devices. 5. Stability and Reactivity Thermal decomposition / conditions to be avoided: No decomposition if used according to specifications. The material can be delivered to the house or-industrial waste. The above information is given to the best of our knowledge, but can only provide non-binding advice. Any processing details are indicative and do...
Open the catalog to page 3
All Scheu-Dental GmbH catalogs and technical brochures

Compare up to 10 products