Catalogs

>

On-line titration
Catalog excerpts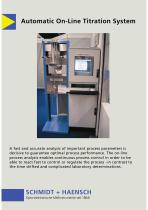 Automatic On-Line Titration System A fast and accurate analysis of important process parameters is decisive to guarantee optimal process performance. The on-line process analysis enables continuous process control in order to be able to react fast to control or regulate the process –in contrast to the time shifted and complicated laboratory determinations. SCHMIDT + HAENSCH Opto-elektronische Meßinstrumente seit 1864!
Open the catalog to page 1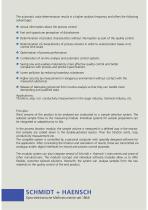 The automatic value determination results in a higher analysis frequency and offers the following advantages: Actual information about the process control Fast and opportune perception of disturbances Determination of product characteristics without interruption as part of the quality control Determination of characteristics of process streams in order to avoid product losses or to control limit levels Optimisation of process performance Combination of on-line analysis and automatic control systems Saving raw and auxiliary materials by more effective quality control and better compliance...
Open the catalog to page 2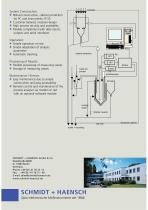 System Construction: Robust construction, cabinet protection for PC and instruments: IP 55 Customer tailored, modular design High process security and availability Flexible complement with data inputs, outputs and serial interfaces Operation: Simple operation on site Simple adaptation of analysis parameter Automatic cleaning Processing of Results: Flexible processing of measuring values Storage of measuring values Maintenance / Service: Easy maintenance due to simple construction and easy accessibility Remote control and maintenance of the process analyser via modem or net with an optional...
Open the catalog to page 3
All Schmidt Haensch GmbH & Co. catalogs and technical brochures

Compare up to 10 products