Catalogs

>

Purity Analyser
Catalog excerpts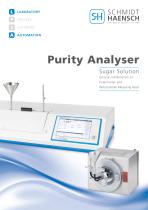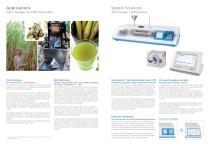 System Solutions Purity Analyser and NIR Polarimetry Technologies / Performance Purity Analyser Saccharomat® - Real Saccharimeter since 1879 The market leader for Purity Analyser The Schmidt + Haensch Purity Analyser is an inherent part in the analysis of the sucrose content. It is applied at payment laboratories of the cane and beet sugar receptions. Schmidt + Haensch goes "green"; fast, reliable and chemical free sugar analyzing (Near Infra Red) The NIR Polarimetry is an official ICUMSA method and a result of an intense cooperation between Schmidt + Haensch and several others leading...
Open the catalog to page 2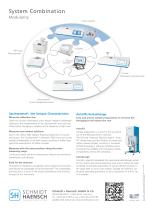 System Combination Modularity Purity Analyser ATR Sugar Refractometer Aquisys Software Circular Polarimeter / Saccharimeter Saccharomat® Quartz-Wedge Polarimeter Measures calibration free Unlike the circular Polarimeters which require frequent wavelength calibration, the measurements of the Saccharomat® are much less influenced by the aging or variation of the frequency of light used. Measures even darkest solutions Due to the similar ORD (Optical Rotatory Dispersion) of sucrose and quartz, the Saccharomat® is affected 1000 times less by the emitted wavelengths of the light source,...
Open the catalog to page 3
All Schmidt Haensch GmbH & Co. catalogs and technical brochures

Compare up to 10 products