Catalogs

>

SFRI

>

BSA 3000
Catalog excerpts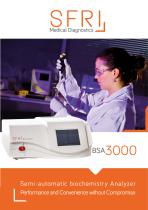 TECHNICAL SPECIFICATIONS BSA 3000: REFERENCE A0101 LIGHT SOURCE Quartz halogen lamp 12 V/ 20 W Stray light: < 1.0% at 340 nm OPTICS Filter wheel can hold up to 8 filters 7 standard filters: 340 nm, 405 nm, 492 nm, 510 nm, 546 nm, 578 nm, and 630 nm 1 free position for extra filter Bandwidth < 8 nm PHOTOMETRIC RANGE Measuring range: 0.0000 to 3.0000 ABS Resolution: 0.0001 ABS Drift: 0.002 ABS FLOWCELL Stainless steel with quartz window Optical path: 10 mm Measuring volume: 32 μl Programmable aspiration volume: 200 - 2000 μl CALIBRATION Linear Non linear up to 6 points Factor THERMOSTATIC CONTROL By means of Peltier elements 25°, 30°, 37°C optional Precision: ± 0.1°C INPUT/OUTPUT RS232 port for mono-directional LIS PRINTOUT Built-in thermal printer, 57.5 mm wide paper, recording width 48 mm DISPLAY 6" LCD touch screen Mono-color display OPERATING ENVIRONMENT Temperature 15°C – 30°C Humidity 20% - 80% (max humidity) POWER REQUIREMENTS A.C. 110/220 V ±10%; 50 – 60 Hz DIMENSIONS 445(W) x 190(H) x 420(D) mm WEIGHT 9 kg MEMORY STORAGE 3000 results per day available in memory at any time and transferable via LIS. Your Local Distributor: SFRI SAS - Lieu-dit Berganton - 33127 Saint Jean d'Illac (Bordeaux) - FRANCE Tel. +33 (0)5 56 68 80 50 - Fax +33 (0)5 56 21 79 03 - contact@sfri.com - www.sfri.com Non contractual document. Specifications subject to change without notice. Ref. BSA3000ENG-V20.00 - Copyright © 2018 SFRI. All rights reserved MEASURING METHOD End point, Kinetic, two point Kinetic, Fixed time, Absorbance, Turbidimetry Regent blank, Sample blank Monochromatic and bic
Open the catalog to page 1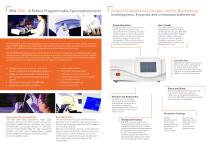 BSA 3000 - A Robust Programmable Spectrophotometer Powerful Features in a Compact Unit for Biochemical Investigations, Enzymes and Immunoturbidimetrics Simple Operations The BSA 3000 is a semi-automated biochemistry instrument used to perform routine clinical chemistry tests. The BSA 3000 performs certain operations automatically such as heating, analyzing, calculating and printing; the reaction solutions being prepared manually by the operator beforehand. Simple and clear-cut parameters setup allows operators to program tests quickly. Real-time monitoring of reaction curves and data, as...
Open the catalog to page 2
TECHNICAL SPECIFICATIONS BSA 3000: REFERENCE A0101 LIGHT SOURCE Quartz halogen lamp 12 V/ 20 W Stray light: < 1.0% at 340 nm OPTICS Filter wheel can hold up to 8 filters 7 standard filters: 340 nm, 405 nm, 492 nm, 510 nm, 546 nm, 578 nm, and 630 nm 1 free position for extra filter Bandwidth < 8 nm PHOTOMETRIC RANGE Measuring range: 0.0000 to 3.0000 ABS Resolution: 0.0001 ABS Drift: 0.002 ABS FLOWCELL Stainless steel with quartz window Optical path: 10 mm Measuring volume: 32 μl Programmable aspiration volume: 200 - 2000 μl CALIBRATION Linear Non linear up to 6 points Factor THERMOSTATIC...
Open the catalog to page 3
All SFRI catalogs and technical brochures

Compare up to 10 products