Catalogs

>

SFRI

>

FLYER ALL PRODUCTS
Catalog excerpts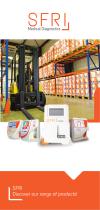 Biochemistry reagents Staff talk about SFRI * "Adventure, ADVENTURE… Diversity, Warmth The SFRI - Société Française de and Ambition" Réactifs et d'Instruments - adventure began in 1977. Of course, our employees have changed over the years, but SFRI's activity has stayed the same and business has grown internationally. From Bordeaux, SFRI develops, manufactures, produces, distributes and exports its medical diagnostic instruments and reagents. To answer any market need, SFRI offers a complete range of universal liquid biochemistry reagents. They are of course, ready-to-use and compatible with a number a different analyzers ! If you own an analyzer from Roche Hitachi®, Siemens Advia®, Mindray® or Olympus AU®, just know that SFRI specifically develops biochemistry reagents adapted to the specifications of these brands. All of our reagents have an excellent correlation with the original products and can easily and perfectly replace the manufacturer's reagents. And to take advantage of automation for immediate recognition of lot number, all SFRI reagents are completely barcoded. So don't hesitate to change to SFRI! SUBSTRATS Alkalin Phosphatase IFCC Bilirubin Direct Total Bilirubin Chlorine TPTZ Cholesterol CHOD-PAP Magnesium Xylidyl Other proteins on demand Glucose GOD-PAP DIVERSITY… SFRI's range of products totals 780 hematology, biochemistry and immunology references sold in more than 80 countries! Did you know? SFRI owns one of the biggest biology reagent factories in France. Each month, 80 tons of reagents are manufactured there! WARMTH AND AMBITION... « Why shouldn't small & medium labs have access to the same quality instruments and precision results as big labs? » NEOVITEA CEO, Gilles Mougin wrote and shared this sentence with his employees because he thought it perfectly represented SFRI's commitment towards its partners. And it does. We at SFRI, WANT the world to have access to French high quality products at reasonable prices. With this philosophy in mind, SFRI will continue to develop instruments and reagents taking into account its partners' feedback and with the objective in mind of being better, together, for world health. After more than 40 years of experience, SFRI has become a major player in the highly competitive world of In Vitro Diagnostics.Today, SFRI is a member of NEOVITEA, an international group that consolidates the development, production, marketing, quality control, communications, training, sales and technical services for all products... Non contractual document. Specifications subject to change without notice. Ref. FLYERENG-V18.00 – Copyright © 2018 SFRI. All rights reserved. High quality, stable and cost effective Lipase - Resorufin LDL Direct Cholesterol Total proteins Proteins HS pyrogallol Triglycerides – GPO PAP Urea UV *Advia® only SFRI SAS Lieu-dit Berganton 33127 Saint Jean d'Illac (Bordeaux) FRANCE Tel. +33 (0)5 56 68 80 50 Fax +33 (0)5 56 21 79 03 contact@sfri.com • www.sfri.com
Open the catalog to page 1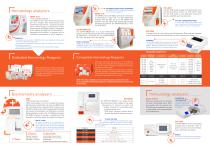 Hematology analyzers ESSENTIAL You no longer have to choose! 1 HEMIX 5-60 on its own replaces 5 instruments! - it works on open AND closed tubes - its switches from manual to automatic with the simple click of a button (100-position autoloader) - and 2 HEMIX 5-60 analyzers still cost less than a good 120t/h analyzer. So don't hesitate anymore! A 3-part differential analyzer with 60 tests per hour and 20 parameters. That's our H18 LIGHT: basic but the best asset of any laboratory looking for quality, reliability and cost reduction. The HEMIX 3-30 is the IDEAL entry level instrument to...
Open the catalog to page 2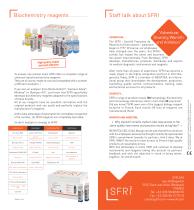 Biochemistry reagentsStaff talk about SFRI High quality, stable and cost effective ADVENTURE... The SFRI - Societe Francaise de Reactifs et d'Instruments - adventure began in 1977. Of course, our employees have changed over the years, but SFRI's activity has stayed the same and business has grown internationally. From Bordeaux, SFRI develops, manufactures, produces, distributes and exports its medical diagnostic instruments and reagents. Non contractual document. Specifications subject to change without notice. Ref. FLYERENG-V18.00 - Copyright © 2018 SFRI. All rights reserved. To answer any...
Open the catalog to page 3
All SFRI catalogs and technical brochures

Compare up to 10 products