Catalogs

>

SFRI

>

IONIX
Catalog excerpts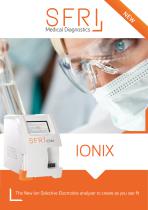 PRINCIPLES PARAMETERS 0.05 LINEARITY (SERUM) Range (mmol/l) Range (mmol/l) MEMORY STORAGE QUALITY CONTROL LINEARITY (URINE) On normal range (mmol/L) IonoRef IonoTrol Patho (L&H) IonoCal IonoTrol IonoClean IonoCleanNa IonoReagTCO2 IonoTrol TCO2 IonoCal TCO2 MCI : Micro Controller Integrated Non refillable, highly stable « Push & Plug » system USB x 2 Ethernet (TCP/IP) or (UDP/IP) Infinate - depends on the SD card (8Go offered) patients files with results & log journal & calibration Internal reference Pathological control IonoKit Calibrator Normal control Cleaning solution Na conditioner TCO2 Kit TCO2 reagent TCO2 control with the TCO2 module TCO2 calibrator C ++ object microprocessor software developed by SFRI - highly intuitive On normal range (mmol/L) Serum, plasma, whole blood & other > Approx120 µL Urine > Approx 150 µL 60 tests / hour – without TCO2 45 tests / hour - with TCO2 With SFRI controls : 3 levels with unlimited results per level and Levey Jenning graphs Any other control accepted Internal thermal printer Large backlit LCD 7'' color touch screen High resolution 800 x 480 OPERATING ENVIRONMENT Temperature: 18 to 32°C (64. °F à 90°F) Humidity: 80% maximum at 32°C (90°F) Reagent storage temperature: 10°C to 40°C (50.0°F to 104.0°F) POWER REQUIREMENTS A.C.: 100-240 V, 2.0 A, 50-60 Hz Optional D.C. input: 12 V, 4 A soon to come Ion Selective Electrode direct measurement Manometric method for TCO2 OPTIONAL AUTOMATIONS INTERNAL BARCODE READERS Your local distributor: 270 x 380 x 420 mm (L x H x P) Manual: 1 position rack Automatic: 5 positions rack Autoloader: 4 x 5 positions Real «walk away» true continous loading For reagents For samples 1 easily installed module for quick and precise dosage of bicarbonates and Anion Gap measurement Non contractual document. Specifications subject to change without notice. Ref. IONIXENG-V201910 ± Copyright © 2019 SFRI. All rights reserved. DETECTION LIMIT (WHOLE BLOOD, SERUM, PLASMA & URINE) Na 1 reference electrode + 2 standard electrodes: Na+, K+, 4 optional electrodes: Cl-, Ca2+, pH, Li+ The New Ion Selective Electrodes analyze
Open the catalog to page 1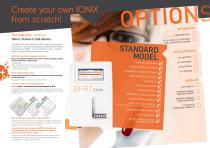 Create your own IONIX from scratch! TCA CONCEPT : UNIQUE ! Take it, Choose it, Add options The IONIX is the latest addition to SFRI's range of ion analyzers with selective electrodes. Manufactured by SFRI with the highest technologies, the IONIX – even the standard model – is a high quality instrument that gives excellent results. MCI Micro Controller Integrated Electrodes Perfect and complete traceability: serial and lot numbers, full history, installation date, maintenance, quality control… • ighly stable. H • on refillable (no more human errors when refilling). N • Simple « Push & Plug »...
Open the catalog to page 2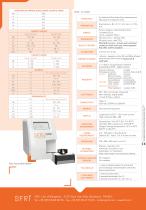 PRINCIPLES PARAMETERS 0.05 LINEARITY (SERUM) Range (mmol/l) Range (mmol/l) MEMORY STORAGE QUALITY CONTROL LINEARITY (URINE) On normal range (mmol/L) IonoRef IonoTrol Patho (L&H) IonoCal IonoTrol IonoClean IonoCleanNa IonoReagTCO2 IonoTrol TCO2 IonoCal TCO2 MCI : Micro Controller Integrated Non refillable, highly stable « Push & Plug » system USB x 2 Ethernet (TCP/IP) or (UDP/IP) Infinate - depends on the SD card (8Go offered) patients files with results & log journal & calibration Internal reference Pathological control IonoKit Calibrator Normal control Cleaning solution Na conditioner TCO2...
Open the catalog to page 3
All SFRI catalogs and technical brochures

Compare up to 10 products