Catalogs

>

2014 IBO Industrial Design Awards
Catalog excerpts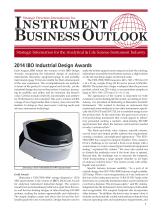 Instrument Strategic Directions International, Inc. Business Outlook Strategic Information for the Analytical & Life Science Instrument Industry 2014 IBO Industrial Design Awards Each August, IBO selects the winners of the IBO Design Awards, recognizing the industrial design of analytical instruments, laboratory equipment (page 6) and portable instruments (page 7) that are notable for their enhancement of the user experience. The accomplishments are aesthetic in terms of the product's visual appeal and novelty, yet the industrial design also serves the product's function, increasing its usability and utility, and by extension, the brand's value. Criteria include creativity, functionality and aesthetics. Performance is not evaluated. This year's winners exhibit a range of novel approaches that, in many cases, reinvent the familiar. In doing so, they meet users' evolving needs and advance instrument technology. Shimadzu's EDX-7000/8000 ED-XRF Spectrometer Gold Award Shimadzu's EDX-7000/8000 energy-dispersive– (ED) XRF spectrometer is the winner of IBO's 2014 Gold Award for analytical instrument industrial design. The system's round front and streamlined profile set it apart from the boxier and heavier-looking designs of other benchtop ED-XRF systems, making the system approachable and distinctive. The simple displays under and above the lid and the lid's handle guide the user's interaction. Design features used to make the system appear more compact include the coloring, indentation around the front-bottom section, a slight incline on the lid and sharp angles on the back sides. The EDX-7000/8000 measures 460 x 360 x 590 mm (18 x 14 x 23 in), weighs 45 kg (99 lb) and is priced at $76,000– $88,000. The system has a larger workspace than the previous product, which was 20% wider, to accommodate samples as large as 300 x 100 x 275 mm (12 x 4 x 11 in). The appearance of the system is important for both consistency and to distinguish the system, according to Terry Adams, vice president of Marketing at Shimadzu Scientific Instruments. "We wanted to develop an instrument that maintained some similarity to our other instruments, specifically the EDX-GP and EDX-720, for a consistent image across the product line. At the same time, the goal was to create a forward-looking instrument that would appeal to laboratory personnel seeking a modern, sleek-looking ED-XRF spectrometer that offers the features and functions needed in today's advanced lab." The black-and-white color scheme, smooth exterior, curved front and sloped profile address this requirement, creating a modern, uncomplicated appearance. "The EDX7000/8000 has a large box-shaped chamber. This created a bit of a challenge as we wanted a front-cover design with a round shape to avoid a stereotypical analytical-equipment feeling," explained Mr. Adams. "We were also careful not to disturb the aesthetics even if the front door is opened. Beyond that, the challenge was to decrease the footprint, while incorporating a large sample chamber so all types of analyses could be done." The system works with solids, liquids and powders. Specific features increase usability. "As a part of its outside design, the EDX-7000/8000 features a high-visibility LED lamp. When x-rays are generated, an x-ray indicator at the rear of the instrument and an 'X-RAYS ON' lamp at the front turns on, so that the instrument status can be monitored even from a distance. This increases safety," said Mr. Adams. Integrated into the instrument's form, the lamp is both subtle and recognizable. The compact footprint also incorporates other features. "In addition, the door is easy to open/close, it includes an electronically cooled semiconductor detector that reduces op
Open the catalog to page 1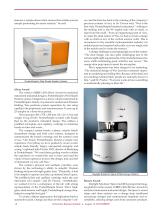 features a sample-observation camera that enables precise sample positioning for easier analysis," he said ors, and the blue ties back to the coloring of the company's previous systems. In fact, as Dr. Proctor said, "Wes is the first truly ProteinSimple-branded instrument." Adding to the striking look is the 90°-angled side with no draft, or taper from the mold. "From an engineering point of view, to create the sleek nature of Wes we had to create a design with no draft on any of the vertical exterior walls. This is uncommon in the scientific instrumentation industry for molded parts and...
Open the catalog to page 2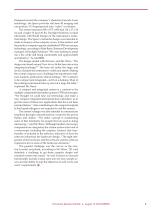 Designed around the company's Quantum Cascade Laser technology, the Spero provides real-time IR imaging and can produce 3-D hyperspectral data "cubes" in minutes. The system measures 406 x 673 x 600 mm (16 x 27 x 26 in) and weighs 54 kg (120 lb). Daylight Solutions worked informally with Bould Design on the instrument's industrial design. The Spero's industrial design was intended to make an impact, as the company is new to this market, and the product competes against established FTIR microscopy technology, according to Matt Barre, Business Development manager at Daylight Solutions "We...
Open the catalog to page 3
All Shimadzu Europa Analytical Instruments catalogs and technical brochures

Compare up to 10 products