Catalogs

>

Catalog EL
Catalog excerpts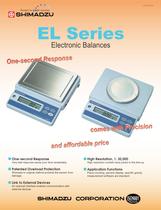 Access to your success Electronic Balances One-second Response Very fast response saves your time remarkably. Patented Overload Protection Shimadzu's original method protects the sensor from Link to External Devices An optional interface enables communication with external devices. High resolution models have joined to the line-up. Piece counting, percent display, specific gravity measurement software are standard.
Open the catalog to page 1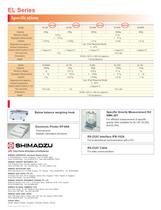 iBelow balance weighing hook Thermal print, Statistic calculation functions iSpecific Gravity Measurement Kit For efficient measurement of specific SHIMADZU CORPORATION. International Marketing Division 3. Kanda-Nishikicho 1-chome, Chiyoda-ku, Tokyo 101-8448, Japan Phone: 81(3)3219-5641 Fax. 81(3)3219-5710 Cable Add.:SHIMADZU TOKYO SHIMADZU SCIENTIFIC INSTRUMENTS, INC. 7102 Riverwood Drive, Columbia, Maryland 21046, U.S.A. Phone: 1(410)381-1227 Fax. 1(410)381-1222 Toll Free: 1(800)477-1227 SHIMADZU DEUTSCHLAND GmbH Albert-Hahn-Strasse 6-10, D-47269 Duisburg, F.R. Germany Phone:...
Open the catalog to page 2
All Shimadzu Europa Analytical Instruments catalogs and technical brochures

Compare up to 10 products