Catalogs

>

Siare

>

FALCO 101
Catalog excerpts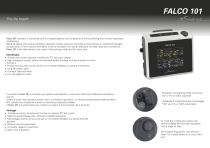 FALCO 101 The life breath Falco 101 ventilator is conceived both for hospital patients and for patients at home suffering from chronic respiratory insufficiency. Being equipped with several ventilatory operative modes: pressure controlled and spontaneous; substantial leckages compensation in Non Invasive Ventilation it allows the patient to have an adecuate and ideal respiratory assistance. Falco 101 is the ideal device to be used in Pneumology wards and for home care. Advantages: · Simple and intuitive operator interface by TFT led colour display · High therapeutic quality, safety and...
Open the catalog to page 2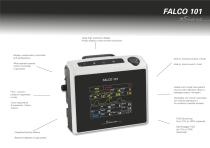 Large high resolution display Ampio display a colori ad alta risoluzione Modes: pressometric controlled and spontaneous Modi operativi presso metrici controllati e spontanei Flow - volume pressure respiratory curves Curva respiratoria di pressione - flusso volume Alarms, historical events, trends Allarmi, storico eventi, trend Usable with single hose patient circuits with expiratory valve or leakeage system (whisper) Utilizzabile con circuiti monotubo con valvola espiratoria o con sistema a perdita (wisper) FiO2 Monitoring from 21% to 100% (optional) Integrated backup battery Batteria...
Open the catalog to page 3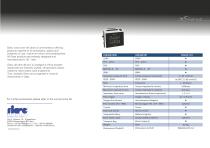 For further accessories please refer to the current price list Siare, since over 40 years is committed to offering products inspired to its philosophy, quality and simplicity of use, maximum return and handling fees. All Siare products are enterely designed and manufactured in UE - Italy. Siare, da oltre 40 anni si impegna a offrire prodotti ispirati alla sua filosofia, qualita, semplicita d'utilizzo, massima resa e bassi costi di gestione. Tutti i prodotti Siare sono progettati e costruiti interamente in Italia. ii*« ENGINEERING INTERNATIONAL GROUP s.r.l. Via G. Pastore, 18 -...
Open the catalog to page 4
All Siare catalogs and technical brochures

Compare up to 10 products