Catalogs

>

Siare

>

FALCO 202
Catalog excerpts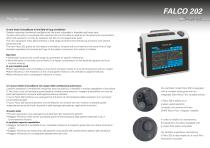 FALCO 202 The life breath A new level of excellence in the field of lung ventilation Patients receiving mechanical ventilation are the most vulnerable in hospitals and home care. It's also well known to everybody that assisting this kind of patients requires at the same time concentration, effort and sensitivity not only by operators but also on the equipments used. The new equipment Falco 202 combines a wide range of performance-enhancing functions with several advanced ones. The new Falco 202 grants for this reason a ventilation, invasive and non-invasive at the same time of high standard...
Open the catalog to page 2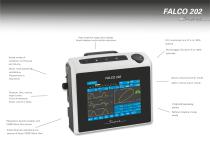 High resolution large colour display Ampio display a colori ad alta risoluzione FALCO 202 FiO2 monitoring from 21% to 100% optional Several modes of ventilation, by Pressure and Volume Diversi modi operatividi ventilazione, Pressometrici e Volumetrici Pressure, flow, volume, loops curves _ Curve di pressione, flusso, volume e loops Respiratory dynamic analysis with SIARE Micro Flow sensor __ Analisi dinamica respiratoria con sensore di flusso SIARE Micro Flow Alarms, historical events, trends Allarmi, storico eventi, trends Integrated long lasting battery Batteria integrata a...
Open the catalog to page 3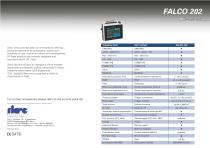 Siare, since over 40 years is committed to offering products inspired to its philosophy, quality and simplicity of use, maximum return and handling fees. All Siare products are enterely designed and manufactured in UE - Italy. Siare, da oltre 40 anni si impegna a offrire prodotti ispirati alla sua filosofia, qualita, semplicita d'utilizzo, massima resa e bassi costi di gestione. Tutti i prodotti Siare sono progettati e costruiti interamente in Italia. ii*« ENGINEERING INTERNATIONAL GROUP s.r.l. Via G. Pastore, 18 - Crespellano 40053 Valsamoggia (BO) Italy Phone: +39 051 969802 (r.a.) - Fax:...
Open the catalog to page 4
All Siare catalogs and technical brochures

Compare up to 10 products