Catalogs

>

SIBELMED

>

Consumable Respiratory
Catalog excerpts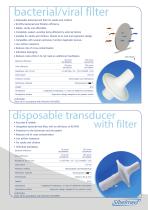 bacterial/viral filter • Disposable bacterial/viral filter for adults and children • 99,99% bacterial/viral filtration efficiency • Stable, sturdy and affordable • Completely sealed, avoiding being affected by external factors • Suitable for adults and children, thanks to its oval and ergonomic design • Compatible with several pulmonary function diagnostic devices • Low airflow resistance • Reduces risk of cross-contamination • Individual packaging • Reduces costs while it do not need an additional mouthpiece Bacterial filtration efficiency Virus filtration efficiency Resistance Dead space...
Open the catalog to page 2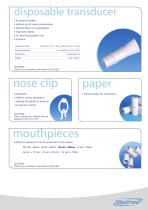 mouthpieces • Different measures to fit any spirometer in the market Special measures of mouthpieces can be manufactured depending on Certified in accordance with Directive 93/42/EEC lilly disposable transducer • Accurate & reliable • Without risk of cross contamination • Without filters nor mouthpieces • Ergonomic design • For adult and pediatric use • Economic Measuring range flow from + 16l/s. Volume from 0 to 10L Dinamic resitance Dimensions Weight Certified in accordance with Directive 93/42/EEC nose clip • Disposable • It helps to perform spirometry testing in a correct way,...
Open the catalog to page 3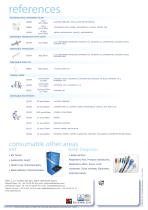 BACTERIAL/VIRAL DISPOSABLE FILTER 08268 LILLY DISPOSABLE TRANSDUCER 03169 Bag 50u. DISPOSABLE NOSE CLIP 02692 Bag 5u. THERMAL PAPER DATOSPIR-SIBELMED NSPIRE, VIASYS, MIR, VITALOGRAPH, MICROMEDICAL, COSMED, CLEMENT CLARKE VIASYS, SENSORMEDICS, JAEGER DATOSPIR-SIBELMED DATOSPIR PEAK 10, CLEMENT CLARKE, TAKIO, MICROMEDICAL (MICROLAB), CREATIVE BIOTECH (MULTISPIRO), MIR (SPIROLAB, SPIROBANK,..) BOSCH-501, MINI-BELL COSMED (PONY), VITALOGRAPH, TRENTINA (PNEUMOS) POCH-MILLAS, MINATO (AUTOSPIRO AS500), CICATEST, EYMASA (NEUMOS-12) DATOSPIR PEDIATRIC, POCH-MILLAS PEDIATRIC FUKUDA, JAEGER,...
Open the catalog to page 4
All SIBELMED catalogs and technical brochures

Compare up to 10 products