Catalogs

>

S.I.E.M.

>

EMRS/F
Catalog excerpts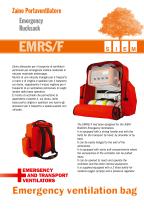 Zaino Portaventilatore Emergency Rucksack EMRS/F Zaino attrezzato per il trasporto di ventilatori polmonari per emergenza medica realizzato in robusto materiale antistrappo. Munito di una robusta maniglia per il trasporto a mano e di cinghia e spallacci per il trasporto sul dorso, rappresenta il mezzo migliore per il trasporto di un ventilatore polmonare in luoghi lontani dalla base operativa. È munito di occhielli che permettono di appenderlo a parete e, sul dorso, della tasca porta cinghia e spallacci ove riporre gli accessori per il trasporto a spalla quando non utilizzati. EMERGENCY AND TRANSPORT VENTILATORS The EMRS/F had been designed for the SIEM BA2001 Emergency Ventilators. It is equipped with a strong handle and with the belts for the transport by hand, by shoulder or by back. It can be easily hanged to the wall of the ambulance. It is equipped with some soft compartments where the accessories of the ventilator can be putted away. It can be opened to reach and operate the ventilator and the other internal equipment. It is supplied equipped with a 2 litres bottle for medical oxygen (empty) and a pressure regulator.
Open the catalog to page 1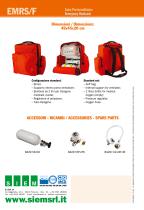 Zaino Portaventilatore Emergency Rucksack Standard set: – Soft bag; – Internal support for ventilator; – 2 litres bottle for medical oxygen (empty); – Pressure regulator; – Oxygen hose. ACCESSORI - RICAMBI / ACCESSORIES - SPARE PARTS S.I.E.M. srl Via Veggioletta, 16/c - 29100 Piacenza - Italy - Tel. ++39 0523 489836 Fax ++39 0523 481557 - E-mail: siem@siemsrl.it - website: www.siemsrl.it Configurazione standard: – Borsa; – Supporto interno porta ventilatore; – Bombola da 2 litri per Ossigeno medicale (vuota); – Regolatore di pressione; – Tubo Ossigeno. LE IMMAGINI DI QUESTO DOCUMENTO SONO...
Open the catalog to page 2
All S.I.E.M. catalogs and technical brochures

Compare up to 10 products