Catalogs

>

Microbiology Collection
Catalog excerpts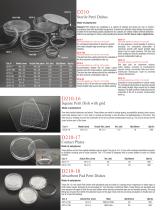 D210 Sterile Petri Dishes Made of polystyrene Simport Petri dishes are available in a variety of shapes and sizes for use in routine procedures and with automated equipment. Economical, optically clear dishes are precision-molded from biomedical grade polystyrene so cultures are clearly visible without distortion. Dishes are packaged in heavy-wall polyethylene sleeves. Not for tissue culture applications. Cat. # Model (mm) Actual Dim.(mm) Vol. (ml) Qty/Sleeve Qty/Cs D210-7 Commonly refered to as a 100 mm x 20 mm dish For unimpaired observation of specimen growth with raised straight ridge...
Open the catalog to page 2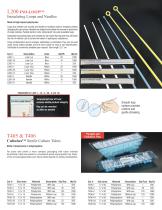 L200 ino-loop™ Inoculating Loops and Needles Made of high impact polystyrene Loops and needles are smooth and flexible to facilitate uniform streaking without damaging the gel surface. Needles are straight and suitable for removal of specimens of single colonies. Packed sterile in safe, tamperproof, zip-seal resealable bags. Disposable inoculating loops and needles do not require flaming and thus eliminate the risk of infection due to aerosol formation of pathogenic substances. Cross contamination due to improper sterilization is eliminated. They can be used under hoods without danger, and...
Open the catalog to page 3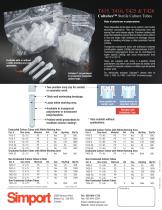 Available with or without a white marking area and graduations f Tamperproof tear off seal ensures sterile product integrity. Bag can be resealed as often as needed. Cultubes™ are packaged in economical resealable ziplock bags. • Two-position snap cap for aerobic or anaerobic work. • Thick wall minimizing breakage. • Large white marking area. • Available in transparent polystyrene or translucent polypropylene. • Printed white graduations to facilitate volume reading*. Graduated Culture Tubes with White Marking Area Cat. # Size (mm) Material Vol Cap Qty/Bag Qty/Cs Graduated Culture Tubes...
Open the catalog to page 4
All Simport Scientific catalogs and technical brochures

Compare up to 10 products