Catalogs

>

SurgiVet® V3304 Tabletop Pulse Oximeter
Catalog excerpts
bringing technology to life The SurgiVet® V3304 Tabletop Pulse Oximeter quickly and reliably delivers pulse oximetry and pulse rate measurements. Its easy-to-read display and proven ability to store vitals for up to 99 patients streamlines patient care. The monitor is user adjustable for optimal veiwing in any setting, allowing clinicians to focus on the patient and for retrieval or download later For more information, visit www.surgivet.com.
Open the catalog to page 1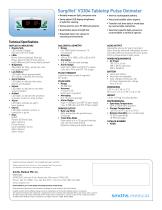 SurgiVet® V3304 Tabletop Pulse Oximeter • Reliably measure SpO2 and pulse rate. • Easily adjust LED display brightness to optimize viewing. • Stores data for up to 99 different patients. • Quantitative pulse strength bar • Expanded heart rate values for remaining environments • Internal rechargeable battery. • Visual and audible alarm signals. • Transfer real time data or trend data by a serial cable connection. • Veterinary specific SpO2 sensors to accommodate a variety of species. Technical Specifications DISPLAYS & INDIcATORS • Display SpO2 LED numeric display 0.43 inch (10.9 mm) high •...
Open the catalog to page 2
All Smiths Medical Surgivet catalogs and technical brochures

Archived catalogs

Compare up to 10 products