Catalogs

>

E-Z Scan™ 5500+ Series Ophthalmic Ultasound Scanner
Catalog excerpts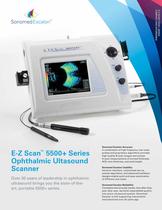 E-Z S can™5500+ Ser ies Comp act and affor dable E-Z Scan™ 5500+ Series Ophthalmic Ultasound Scanner Over 30 years of leadership in ophthalmic ultrasound brings you the state-of-theart, portable 5500+ series. Sonomed Escalon Accuracy A combination of high frequency, low noise probes and proprietary algorithms provides high-quality B-scan images and precise A-scan measurements of corneal thickness, ACD, lens thickness, and axial length. Sonomed Escalon Usability Intuitive interface, customized set-up, precise algorithms, and advanced hardware designs enable quick and easy examination of different eye types. Sonomed Escalon Reliability Consistent and accurate results, time after time, year after year, we build unparalleled quality into every ultrasound system. Sonomed Escalon is still supporting instruments manufactured over 20 years ago.
Open the catalog to page 1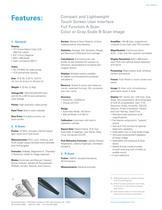 SE-U-0203-A Features: Compact and Lightweight Touch Screen User Interface Full Function A-Scan Color or Gray-Scale B-Scan Image 1. General: Review: Stored A-Scan Patterns, A-Scan measurements, and statistics Amplifier: 100 dB Gain, Logarithmic/ Linear/S-Curve, Gain, and TVG controls Statistics: Average, Std. Deviation, Range, and Maximum Difference from average Magnification: Continuous Zoom (0.5x – 2.0x) with Pan (joystick controlled) Calculations: 6 constants per user profile, 9 user selected IOL powers vs. refraction, personalized A-constants and surgeon factors Display Resolution: 640 x...
Open the catalog to page 2
All Sonomed Escalon catalogs and technical brochures

Archived catalogs
Compare up to 10 products