Catalogs

>

PacScan 300 Plus With New Features in Digital Biometric Ruler
Catalog excerpts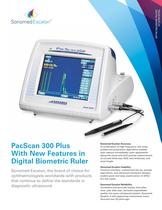 PacScan PLUS Digital Biometric Ruler PacScan 300 Plus With New Features in Digital Biometric Ruler Sonomed Escalon, the brand of choice for ophthalmologists worldwide with products that continue to define the standards in diagnostic ultrasound. Sonomed Escalon Accuracy A combination of high frequency, low noise probes and proprietary algorithms enables scan capture immediately upon applanation along the visual axis with precise measurement of corneal thickness, ACD, lens thickness, and axial length. Sonomed Escalon Usability Intuitive interface, customized set-up, precise algorithms, and advanced hardware designs enable quick and easy examination of different eye types. Sonomed Escalon Reliability Consistent and accurate results, time after time, year after year, we build unparalleled quality into every ultrasound system. Sonomed Escalon is still supporting instruments manufactured over 20 years ago.
Open the catalog to page 1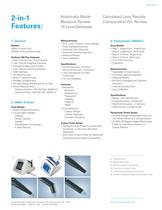 SE-U-0202-A 2-in-1 Features: Automatic Mode Measure Review 10 Lens Database 1. General: Measurements: • CD, Lens, Vitreous, Axial, Average A Axial, Standard Deviation • Individual Zone Velocities • Automatic Sensing Algorithm • Measure Review • Auto-Calibration Models: 300A+ A-Scan Only 300AP+ A-Scan/Pachymeter PacScan 300 Plus Features: • High Contrast Color Touch Screen • User Friendly Graphical Interface • 5 Programmable User Profiles • Scan Viewer Archiving Software • USB Interface • SD Memory Card • Built-In Thermal Printer • Storage Compartment • Portable Design Weighing 6 lbs (2.7kg)...
Open the catalog to page 2
All Sonomed Escalon catalogs and technical brochures

Archived catalogs
Compare up to 10 products