Catalogs

>

Sonosite

>

AxoTrack? Needle Guidance Technology Simple ?point-and-shoot? access Precisely
Catalog excerpts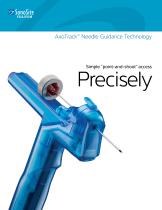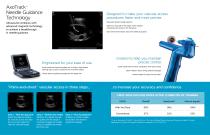 AxoTrack Needle Guidance Technology ™ Designed to make your vascular access procedures faster and more precise. Easily plot desired needle trajectory. Ultrasound combines with advanced magnetic technology to achieve a breakthrough in needle guidance. Observe a clear path to the target via the magnet interacting with sensors in the transducer. Gain real-time information about the needle tip position. Engineered for your ease of use. Small transducer footprint enables you to image in tight spaces, allowing easy access to subclavian vein and other targets. Created to help you maintain...
Open the catalog to page 2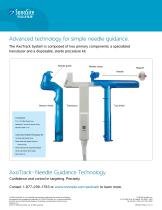 Advanced technology for simple needle guidance. The AxoTrack System is composed of two primary components: a specialized transducer and a disposable, sterile procedure kit. Needle guide Needle clamp Applications: Venous and vascular access AxoTrack I Sterile Procedure Kit Top Shield with Needle Clamp Bottom Shield with Needle Guide and Needle Assembly with Integral Ring Magnet Sterile Cable Sleeve (80cm length) AxoTrack™ Needle Guidance Technology Confidence and control in targeting. Precisely. Contact 1-877-299-1783 orwww.sonosite.com/axotrack to learn more. FUJIFILM SonoSite, Inc. the...
Open the catalog to page 3
All Sonosite catalogs and technical brochures

Compare up to 10 products