Catalogs

>

Sonosite

>

VIVIDTRAC VIDEO INTUBATION DEVICE
Catalog excerpts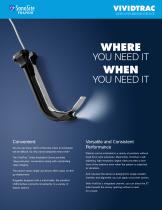 VIDEO INTUBATION DEVICE WHERE YOU NEED IT WHEN YOU NEED IT Convenient No one can know 100% of the time when an intubation will be difficult. So why not be prepared every time? The VividTrac Video Intubation Device provides "plug-and-play" convenience along with outstanding video imaging. ™ The pocket-sized, single-use device offers rapid, on-thego deployment. Ruggedly designed with a metal blade, the standard USB interface connects conveniently to a variety of display options. Versatile and Consistent Performance Patients can be intubated in a variety of positions without head tilt or neck extension. Meanwhile, VividTrac's selfadjusting, high-resolution, digital video provides a clear view of the anatomy even when the patient is subjected to vibrations. And, because the device is designed for single-handed insertion and alignment, you can apply concurrent suction. With VividTrac's integrated channel, you can direct the ET tube towards the airway opening without a need for a stylet.
Open the catalog to page 1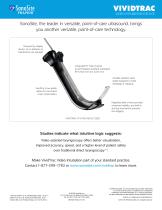 VIDEO INTUBATION DEVICE SonoSite, the leader in versatile, point-of-care ultrasound, brings you another versatile, point-of-care technology. Powered by display device, so no batteries or maintenance are required Integrated ET Tube channel accommodates standard, lubricated ETTs from 6.0 mm to 8.5 mm Durable stainless steel blade designed to resist breakage or chipping VividTrac's low profile allows for concurrent chest compressions Magnified field of view provides enhanced visibility, and built-in anti-fog mechanism prevents lens fogging VIVIDTRAC VT-A105 (ADULT SIZE) Studies indicate what...
Open the catalog to page 2
All Sonosite catalogs and technical brochures

Compare up to 10 products