Catalogs

>

AriaTele: A picture of confidence.
Catalog excerpts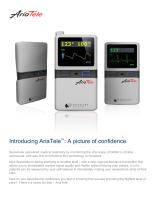 Introducing AriaTele™: A picture of confidence. Spacelabs pioneered medical telemetry by monitoring the vital signs of NASA's orbiting astronauts, and was first to introduce this technology to hospitals. Now Spacelabs is taking telemetry to another level – with a new, high performance transmitter that allows you to immediately confirm signal quality and rhythm without leaving your patient. In turn, patients can be reassured by your self-reliance in immediately making your assessment while at their side. How do you describe the confidence you feel in knowing that you are providing the highest...
Open the catalog to page 2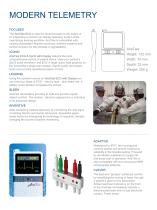 AriaTele Height: 132 mm Width: 75 mm Depth: 22 mm Weight: 200 g FOCUSED The AriaTele ECG is ideal for those focused on the basics or on expanding a current non-display telemetry system while maintaining existing workflow. AriaTele is compatible with existing Spacelabs Ultraview receivers, antenna systems and central monitors for the ultimate in upgradability. ICONIC AriaTele ECG & SpO2 with Display delivers the most comprehensive picture of patient status. View your patient's SpO2 pulse waveform and ECG in large, quick-read graphics on the transmitter's large color display. Signal quality...
Open the catalog to page 3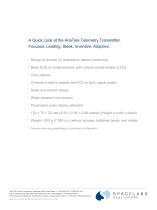 A Quick Look at the AriaTele Telemetry Transmitter. Focused, Leading, Sleek, Inventive, Adaptive, Range of choices for ambulatory patient monitoring Basic ECG to mulitparameter with a liquid crystal display (LCD) Color display Clinician is able to assess the ECG or SpO2 signal quality Sleek and smooth design Pacemaker pulse display detection 132 × 75 × 22 mm (5.20 × 2.95 × 0.98 inches) (Height x width x depth) Weight <200 g (7.055 oz.) without grouper, batteries, leads, and cables Features may vary depending on purchased configuration. 35301 SE Center St Snoqualmie, Washington 98065 United...
Open the catalog to page 4
All Spacelabs Healthcare catalogs and technical brochures

Compare up to 10 products