Catalogs

>

MULTIGAS ANALYSIS
Catalog excerpts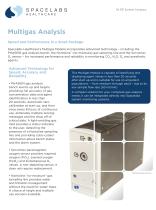 Multigas Analysis Speed and Performance in a Small Package Spacelabs Healthcare's Multigas Module incorporates advanced technology - including the PHASEIN gas analysis bench, the Nomoline™ (no-moisture) gas sampling line and the Servomex O2 sensor - for increased performance and reliability in monitoring CO2, N2O, O2 and anesthetic agents. This Multigas Module is capable of identifying and displaying agent values in less than 20 seconds after start up and is suitable for use on all patient populations - from newborn through adult - due to its low sample flow rate (50 ml/min). A compact solution for your complete gas analysis needs, it can be integrated directly into Spacelabs patient monitoring systems. Advanced Technology for Speed, Accuracy and Reliability • PHASEIN gas analysis bench warms up and begins providing full accuracy of gas concentration data and agent identification in less than 20 seconds. Automatic zero calibration at start up, and then once every 8 hours of continuous use, eliminates multiple zeroing messages and the drop off of critical data. A light-emitting gas inlet provides a status indicator to the user, detecting the presence of a Nomoline sampling line and providing color-coded information about bench status and the alarm system. • Servomex paramagnetic oxygen sensor provides inspired oxygen (FiO2), expired oxygen (FeO2) and instantaneous O2 values. A non-depleting sensor, it does not require replacement. • Nomoline "no-moisture" gas sampling line provides water and filtration management without the need for water traps. A choice of single and multiple use versions available.
Open the catalog to page 1
For all Patient Populations - Neonate through Adult The Multigas Module's highly efficient PHASEIN gas analysis bench uses a sample flow rate of just 50 ml/min -allowing side-stream gas sampling on all patient populations. Compact & Compatible For integration with Spacelabs Xprezzon™ and Ultraview SL® patient monitoring systems. Comprehensive Gas Analysis • RELIABLE CO2 & multigas monitoring • FAST O2 technology • AUTO agent identification - Isoflurane - Desflurane - Sevoflurane - Enflurane - Halothane Light Emitting Gas Inlet (LEGI) Status Indicator 35301 SE Center Street, Snoqualmie, WA...
Open the catalog to page 2
All Spacelabs Healthcare catalogs and technical brochures

Compare up to 10 products