Catalogs

>

OnTrak - ambulatory patient monitor
Catalog excerpts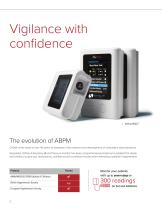 On Trak OnTrak, the New Evolution of ABPM from Spacelabs Healthcare Vigilance with Confidence OnTrak is the result of over forty years of expertise in the research and development of ambulatory blood pressure recording. PROTOCOL PASSED Spacelabs OnTrak Ambulatory AAMI/ANSI/ISO 81060* (Adults & P Blood Pressure monitor has been Children) comprehensively tested and validated British Hypertension Society A /A against all three of the recognized European Hypertension Society P international protocols, to give you reassurance and confidence when assessing a patient's hypertension. Ease of Use •...
Open the catalog to page 2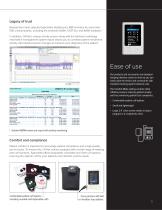 Flexible Solutions Sentinel is Spacelabs Healthcare's Cardiology Information Management system which, when combined with OnTrak, provides for a scalable solution for all your hypertension analysis and review needs. • Combine with a standalone copy of Sentinel on your PC for simple analysis and storage. • Step up to a web based small network system allowing download and review on multiple workstations. Perfect for small practices. • For group-wide hospital or clinical research based systems or where data needs to be downloaded remotely. Sentinel can be scaled up to a web based...
Open the catalog to page 3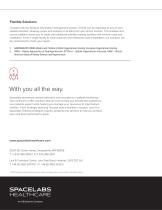 * Excludes clause 5.2.6 – The 90227 is contraindicated for use with stress testing equipment. 35301 SE Center St Snoqualmie, WA 98065 | T +1 425 396 3300 | +1 800 522 7025 • Unit B, Foxholes Centre, John Tate Road, Hertford, SG13 7DT, UK | T +44 (0)1992 507700 | F +44 (0)1992 501213 Specifications subject to change without notice. Drg No. 078-0662-01 Rev
Open the catalog to page 4
All Spacelabs Healthcare catalogs and technical brochures

Compare up to 10 products