Catalogs

>

qube Capno Pod
Catalog excerpts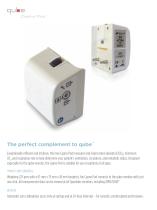 The perfect complement to qube™ Exceptionally efficient and intuitive, the new Capno Pod measures end-tidal carbon dioxide (EtCO2), minimum CO2, and respiration rate to help determine your patient's ventilatory, circulatory, and metabolic status. Designed especially for the qube monitor, the Capno Pod is suitable for use on patients of all ages. COMPACT AND COMPATIBLE Weighing 225 gms with a 97 mm x 75 mm x 58 mm footprint, the Capno Pod connects to the qube monitor with just one click. All measurement data can be viewed at all Spacelabs monitors, including XPREZZON.™ INTUITIVE Automatic...
Open the catalog to page 2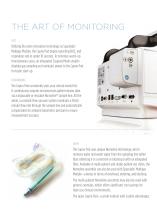 Utilizing the same innovative technology as Spacelabs' Multigas Module, the Capno Pod begins reporting EtCO2 and respiration rate in under 10 seconds. To minimize warm-up time between cases, an integrated Suspend Mode smartly disables gas sampling yet maintains power to the Capno Pod for faster start-up. PERFORMANCE The Capno Pod consistently puts your clinical needs first. It continuously acquires and processes patient airway data via a disposable or reusable Nomoline™ sample line. All the while, a constant-flow vacuum system maintains a 50ml/ minute flow rate through the sample line and...
Open the catalog to page 3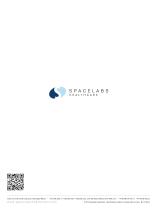 35301 SE Center Street Snoqualmie, Washington 98065 | T +1 425 396 3300 | +1 800 522 7025 • 1 Harforde Court, John Tate Road, Hertford, SG13 7NW, UK | T +44 (0)1992 507700 | F +44 (0)1992 501213 © 2013 Spacelabs Healthcare Specifications subject to change without notice. M1127-My13
Open the catalog to page 4
All Spacelabs Healthcare catalogs and technical brochures

Compare up to 10 products