Catalogs

>

Lower Arm and Hand Models with inflexible Finger joints
Catalog excerpts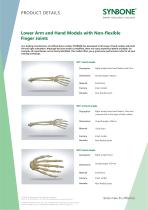 Lower Arm and Hand Models with Non-flexible Finger Joints As a leading manufacturer of artificial bone models, SYNBONE has developed a full range of hand models with both left and right orientation. Although the base model is simplified, there are many anatomical details available, for example, all carpal bones can be clearly identified. This model offers you a great price-performance ratio for all your training workshops. 9011 Hand simple Description Right simple Hand with Radius and Ulna Dimensions Overall length: 450mm Material Solid foam Fracture Intact model Remarks Non-flexible joints 9011.G Hand simple Description Right simple Hand with Radius, Ulna and covered with a thin layer of latex rubber Dimensions Overall length: 450mm Material Solid foam Fracture Intact model Remarks Non-flexible joints Right simple Hand Overall length: 187mm Solid foam Intact model Non-flexible joints 9015 Hand simple Description Dimensions Material Fracture Remarks details make the difference SYNBONE SDN BHD • No. 40-41, Jalan i-Park 1/3 • 8100 Bandar • Indahpura • Kulai, Johor • Malaysia Phone +60 766 082 20 • Fax +41 81 300 02 89 • sales@synbone.com • www.synbone.com
Open the catalog to page 1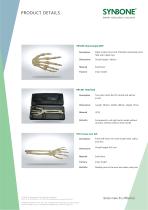 SYNBONE" better education outcome PR1036 Hand simple MCP Description Right simple Hand with 4 flexible metacarpal joints held with rubber tips Dimensions Overall length: 180mm Material Solid foam Fracture Intact model 9212 Lower arm left Description Dimensions Material Fracture Remarks PR1401 Hand bed Description Two piece Hand bed for dorsal and palmar access Dimensions Length: 500mm. Width: 200mm. Height 73mm Remarks Corresponds to all right hand models without strucktur. Delivery without bone model. Entire left lower Arm with simple hand, radius and ulna Overall length: 445...
Open the catalog to page 2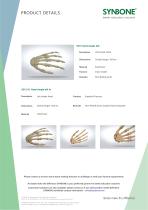 PRODUCT DETAILS SYISBONE"better education outcome Material Fracture Remarks Solid foam Intact model Non-flexible joints Fracture Scaphoid Fracture Remarks Non-flexible joints, Scaphoid bone separate 9215.10 Hand simple left fx Description Left simple Hand Dimensions Overall length: 187mm Material Solid foam Please contact us to learn more about existing fractures or challenge us with your fracture requirements. details make the difference As details make the difference SYNBONE is your preferred partner for better education outcome. Customized solutions are also available, please...
Open the catalog to page 3
All SYNBONE AG catalogs and technical brochures

Compare up to 10 products