Catalogs

>

Compact Waterproof Data Logger TR-5i Series Features and Specs
Catalog excerpts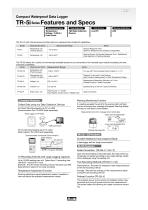 Compact Waterproof Data Logger Measurement Items Data Collection Data Access Warning Notification Temperature / Voltage / 4-20mA / Pulse Count T&D Data Collection Devices The TR-51i with internal sensor provides optimum waterproof and dustproof capabilities. Common Features Collect Data using our Data Collection Devices For Direct Data Downloading to PC via USB Communication Port TR-50U2 (sold separately) Warning Monitoring Function If a reading exceeds the set limit the warning LED will flash and an on-screen error message will appear. Warning display will stay on until data is downloaded. Measurement and error message shown alternately Upper Limit Exceeded (Hi) I OH Lower Limit Exceeded (Lo) For On-Site Downloading (up to 16 units) Data Collector TR-57DCi (sold separately) Download data via Infrared Communication TR-51i / 52i Features 15 Recording Intervals with Large Logging Capacity Up to 16,000 readings per unit. Select from 15 recording intervals (from 1 second to 1 hour). Example: At a 60-minute recording interval, that gives you 666 days (almost 2 years) of non-stop recording. Temperature Adjustment Function Entering adjustment values beforehand makes it possible to view and record the adjusted measurement values. Durable Waterproof and Dustproof Body A data logger built for tough environments TR-55i Features Scale Conversion (TR-55i-V / mA / P) Upon the downloading of recorded data, the scale will be automatically converted according to pre-made settings. Graph will be displayed using the desired unit. Two Recording Methods (TR-55i-V / mA) Instantaneous: Records the measured value instantaneously at the set recording interval. Average: Records the average of the measurements taken during the set recording interval. Preheat Function (TR-55i-V) This supplies power to the sensor immediately before measurement and turns off power until the next measurement. This saves battery life allowing for longer continuous recording.
Open the catalog to page 1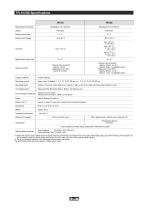 *1: Battery life depends upon multiple factors including measuring environment, recording interval, and quality of the battery being used. When infrared communication function is enabled, battery life may be further shortened if the unit is used under the inverter type fluorescent lighting. *2: This is the waterproof capacity of the data logger with the sensor connected. The specifications listed above are subject to change without notice.
Open the catalog to page 2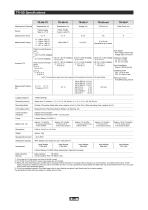 Measurement Channels Measurement Units Measurement Range Thermocouple Measurement K, J, T : ±( 0.3 °C+0.3% cf reading ) Cold Junction Compensation ±0.3 °C at 10 to 40 °C Input Signal Non-voltage Contact Input Voltage Input ( 0 to 27V ) Detection Voltage Lo: 0.5 V or less Hi: 2.5 V or more Input Impedance Approx.100 KQ pull up Chattering Filter ON: 15 Hz or less OFF: 3.5 kHz or less Note: The temperature range shown above represents the operating environment of the Input Module. Maximum Count 61,439/Recording Interval Logging Capacity 1: In the case of a 4-wire sensor, one wire will be left...
Open the catalog to page 3
All T&D Corporation catalogs and technical brochures

Compare up to 10 products