Catalogs

>

TR4A Series
Catalog excerpts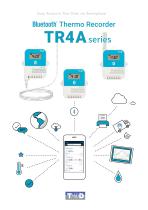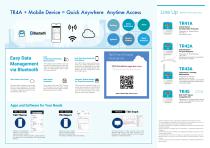 TR4A + Mobile Device = Quick Anywhere Anytime Access Setting Data Collection Internal Sensor for Better Water Protection Temperature 1ch (Internal Sensor) -40 to 80 °C IP67 Immersion Proof Report Output Data Analysis External Sensor for Quick Response Easy Data Management via Bluetooth Easy Temperature/Humidity Measurement Easy Data Download with Smartphone The battery-powered TR4A series can be used for measurement at any site. Select a model according to your needs such as measurement items, range, and responsiveness. The T&D Thermo App automatically detects your logger via Bluetooth....
Open the catalog to page 2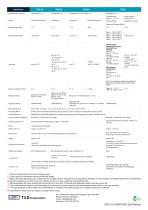 Measurement Channels Thermistor (Internal) Thermocouple: Type K, J, T, S, R (Not provided) Polymer Resistance Connection Terminal (M3.5) Measurement Units Measurement Range Type K : -199 to 1370 °C Type J : -199 to 1200 °C Type T : -199 to 400 °C Type S : -50 to 1760 °C Type R : -50 to 1760 °C Thermocouple Measurement (Sensor inaccuracies not included) Type K, J, T : ±(0.5 °C + 0.3 % of reading) at -100°C or above Type S, R : ±(1.5 °C + 0.3 % of reading) at 100°C or above Cold Junction Compensation ±0.5 °C *at 10 to 40 °C ±0.8 °C *at -40 to 10 °C, 40 to 80 °C Note: The temperature range...
Open the catalog to page 3
All T&D Corporation catalogs and technical brochures

Compare up to 10 products