Catalogs

>

BALEX
Catalog excerpts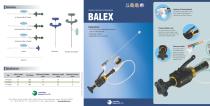 • VCF(Vertebral compression fracture) • Osteolytic fracture • Metastatic bone fractures Cannular & Expander 204, Namdong Industrial-Complex, 45B-6L, #435-6, Nonhyun-dong, Namdong-gu, Incheon, 405-848, RO.KOREA Pressure Mode Lever The 'Pressure Mode Lever' makes it possible for convenient surgery to select pressurization modes, such as bulk / micro Pressure Handle pressurize. Push or turn bulk or micro pressure for more stable and accurate vertebral recovery.
Open the catalog to page 1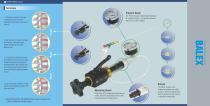 1. Through the pedicle of damaged vertebrae body, entry Wire-pin, Expander and Cannular using manual 2. After insertion of Expander through the Cannular, a physician slowly inflates the Balloon with initial 3. The physician controls the volume of the Balloon to recover the damaged vertebral body with micro-pressure until intact level of the vertebrae body. The physician should record amount of injected fluid to predict the cement 4. Inject the proper quantity of bone cement into the operating region with Pressure Gauge The 'Pressure Gauge' indicates applied pressure for vertebral recovery....
Open the catalog to page 2
All TAEYEON Medical catalogs and technical brochures
Compare up to 10 products