Catalogs

>

TD-3261
Catalog excerpts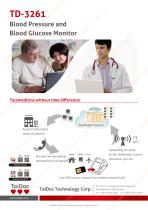 Blood Pressure and Blood Glucose Monitor Telemedicine without time difference! Data analysis TeleHealth System Provide the immediate telemedicine for patient Use SIM card to connect the mobile network (4G) TaiDoc Technology Corp. www.taidoc.com Uploading test data to the TeleHealth system whenever you are Office Vacation Healthy Check Acquired the latest status of patient B1-7F., No. 127, Wugong 2nd Rd., Wugu Dist., New Taipei City 24888, Taiwan Tel : +886-2-6625-8188 Fax : +886-2-6625-0288 Copyright TaiDoc Technology Corporation. All rights reserved.
Open the catalog to page 1
Blood Pressure monitor Blood Pressure and Blood Glucose Monitor Clever inflation technology Irregular Heartbeat (IHB) detection Smart Auto-Cycling Function Blood Glucose monitor No-coding blood glucose test strip Pre-meal (AC) and Post-meal (PC) records Strip ejection Rechargeable Li-Ion Battery and External DC 6V Maximum 864 memory records Bluetooth smart (TD-3261B) / 4G (TD-3261G) 180 seconds 147mm (L) x 105mm (W) x 80mm (H), 500g (include battery) 10°C~40°C Power Source Memory Capacity Communication Power Saving Size of Monitor w/o Cuff Operating Condition Automated Averaging Function...
Open the catalog to page 2
All TaiDoc Technology catalogs and technical brochures

Compare up to 10 products