Catalogs

>

TD-4268
Catalog excerpts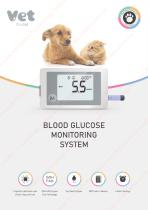 Tiny Blood Sample GDH-FAD Enzyme Strip Technology A specific calibration code chip for dogs and cats BLOOD GLUCOSE MONITORING SYSTEM
Open the catalog to page 1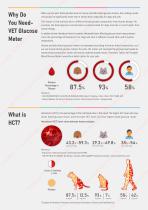 When we test pets' blood glucose level on human portable blood glucose meters, the reading results will always be significantly lower than it should have, especially for dogs and cats. The reason is that animals have a different blood glucose composition from human beings. For example, the blood glucose concentration in plasma blood for dogs and cats is much higher than human beings. In addition to that, Hematocrit level is another influential factor affecting glucose level measurement, since the percentage of Hematocrit for dogs and cats is different to each other and to human...
Open the catalog to page 2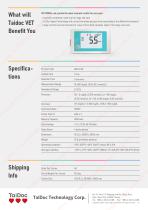 What will Taidoc VET Benefit You VET PBGMs can provide the most accurate results for your pets. Enzyme Type Sample Size Measurement Range Memory Capacity Daily Alarm Storage Condition Gross Weight Per Carton Carton Size TaiDoc Technology Corp. B1-7F., No.127, Wugong 2nd Rd., Wugu Dist., New Taipei City 24888, Taiwan Tel : +886-2-6625-8188 Fax : +886-2-6625-0288 Operating Condition Power Source ±15 mg/dL if ≦100 mg/dL; ±15% if >100 mg/dL (5.55 mmol/L); CV < 5% at 100 mg/dL (5.55 mmol/L) SD < 5 mg/dL (0.278 mmol/L) at < 100 mg/dL Hematocrit Range Reaction Time Shipping Info Copyright TaiDoc...
Open the catalog to page 3
All TaiDoc Technology catalogs and technical brochures

Compare up to 10 products