Catalogs

>

TD-5011
Catalog excerpts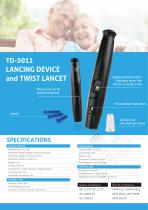 legible yellow button indicates when the device is ready to use LANCING DEVICE -and TWIST LANCET The lancet can be ejected anytime. SPECIFICATIONS TWIST LANCET Model Number:TD-5084 Lancet Gauge: 30G Weight: 0.4g Dimension: 32.6mm x 6.4mm LANCING DEVICE Model Number: TD-5011 Penetration Depth Setting: 9-level comfort dial Penetration Range: 0.4 mm to 1.5 mm Dimension: 109 (L) x 18 (D) mm Weight: 17 g Units per Carton: 100 pcs/box and 140 boxes/carton Priming of Device: Net Weight per Carton: 7.62 kg Push button to prime with status display window Gross Weight per Carton: 8.62 kg Lancet Ejection: Yes Alternative Site Testing: Yes Quality Compliance ISTA 2A Compliance ISO 11137, ISO 11737, ASTM E171, ASTM D4332, ISO 10993-10 ASTM D642, ASTM D999,
Open the catalog to page 1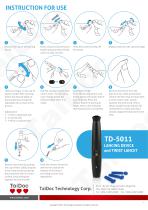 Twist the protective disk off the lancet. Pull the cocking control back until it clicks. You will see a color change inside the release button when it is ready. LANCING DEVICE and TWIST LANCET Slide the ejector forward to remove the used lancet. Dispose of the lancet according to your local regulations. TaiDoc Technology Corp. www.taidoc.com Remove the lancet by pulling the cap off first. Safely dispose of the used lancet by placing the protective disk on a hard surface, and pushing the exposed tip into the disk. Remove the device from the puncture site. After penetration, remove the first...
Open the catalog to page 2
All TaiDoc Technology catalogs and technical brochures

Compare up to 10 products