Catalogs

>

PLUSMA Series H2O2 Plasma Sterilizers
Catalog excerpts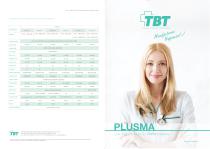 Our models and their specifications are given below: PLUSMA SERIES LOW TEMPERATURE H2O2 PLASMA STERILIZERS MODELS SPECIFICATIONS 521007 – SINGLE DOOR 521008 – DOUBLE DOOR 59% w/w H2O2 (OPTIONAL 50% w/w H2O2 AVAILABLE) IN RFID SECURED & FOUR VALVE SAFETY TANKS STERILIZING AGENT TANK CAPACITY LUMEN CLAIMS RIGID & FLEXIBLE LUMENS, ENDOSCOPES OXYGEN & WATER QUICK CYCLE STANDARD CYCLE SPECIAL CYCLE VOLUME TOTAL CHAMBER DIMENSIONS CHAMBER SHAPE CONTROL SYSTEM MICROPROCESSOR & WINDOWS CE EMBEDDED SELF STANDING SELF STANDING SELF STANDING WITH CART WITH CART WITH CART DOOR SYSTEM CART USAGE VERTICAL SLIDING MANUAL ELECTRICAL INTERLOCKED 2 X SHELF LOADING SYSTEM POWER REQUIREMENTS TURKUAZ BIYOMEDIKAL TEKNOLOJILER VE SAGLIK HIZMETLERI SAN. TIC. LTD. STI. Kazım Özalp Mah. Hafta Sok. No:23/2 06610 Cankaya / ANKARA / TURKEY Tel: +90 850 840 8 828 Fax: +90 312 911 25 28 info@tbtmedical.com - www.tbtmedical.com This document is intended for the use of partners of TURQUOISE BIOMEDICAL TECHNOLOGIES Inc. Reproduction in whole or in part by any other party is prohibited. TBT specifications are given for reference only and are subject to change without any previous notice. Accessory/Product images are for illustrative purposes only. rev. EN 001-2019 © 2016, TBT Inc. All rights reserved.
Open the catalog to page 1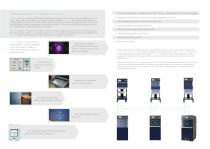 Cold sterilization solutions for all sensitive instruments • Da Vinci scope sterilization is available (tested by SMP / Germany – official partner for Da Vinci Scope Validation) PLUSMA series low temperature H2O2 plasma sterilizers are designed in order to offer medical professional a time and money saving option for reusable heat & moisture sensitive materials. PLUSMA series combine green approach by replacing high risk chemicals in clinics, with safety in all phases by having only water and oxygen as residue. The fast cycle times specialized for different material types reduce financial...
Open the catalog to page 2
All TBT Medical catalogs and technical brochures

Compare up to 10 products