Catalogs

>

BIOGRAPH INFINITI 6
Catalog excerpts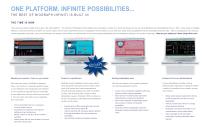 ONE PLATFORM. INFINITE POSSIBILITIES... t H E B E S T O F B I O G R A P H I N F I N I T I I S B U I LT I N THE TIME IS NOW There has never been a better time to get on the Infiniti platform. The evolution of BioGraph Infiniti software has culminated in version 6.0, which will change the way you do biofeedback and neurofeedback forever. With a wide variety of usability features, a new look and feel, a powerful new sound engine, and the most comprehensive set of computations on the market, you can offer your clients training capabilities that are unavailable anywhere else. Add to that...
Open the catalog to page 2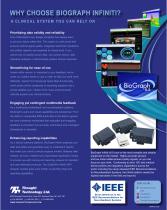 WHY CHOOSE BIOGRAPH INFINITI? A C L I N I C A L S Y S T E M Y O U C A N R E LY O N Prioritizing data validity and reliability One of BioGraph's key design principles has always been to put your data's safety first. The system is crash proof and ensures optimal signal quality. Integrated electrode impedance and artifact rejection are essential to clinical work. If you cannot rely on quality sensor data, you cannot ensure valid statistical analyses or demonstrate positive clinical outcomes. Streamlining for ease of use Version after version, in response to your feedback, we've made our system...
Open the catalog to page 3
All Thought Technology catalogs and technical brochures

Compare up to 10 products