Catalogs

>

developer tools
Catalog excerpts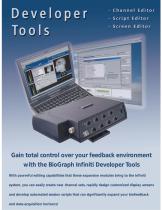 Gain total control over your feedback environment with the BioGraph Infiniti Developer Tools With powerful editing capabilities that these expansion modules bring to the Infiniti system, you can easily create new channel sets, rapidly design customized display screens and develop automated session scripts that can significantly expand your biofeedback and data-acquisition horizons!
Open the catalog to page 1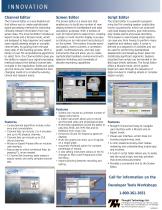 Channel Editor Screen Editor Script Editor The Channel Editor is a very flexible tool that allows you to create sophisticated signal-processing methods for extracting clinically relevant information from raw sensor data. The Channel Editor includes an Expert mode and a Wizard mode, which are designed to help beginner and expert users rapidly develop simple or complex channel sets, by guiding them through every step of the building process. With a library of over 50 computational algorithms to select from, the Channel Editor gives you the ability to expand your signal-processing methods...
Open the catalog to page 2
All Thought Technology catalogs and technical brochures

Compare up to 10 products