Catalogs

>

TPS evu senze
Catalog excerpts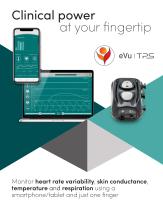 Clinical power at your fingertip Monitor heart rate variability, skin conductance, temperature and respiration using a smartphone/tablet and just one finger
Open the catalog to page 1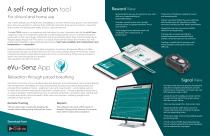 Reward View Your clients already use smartphones and tablets to surf the internet, play games, and read emails. Now, they can use them to improve their health by tuning into their nervous systems, measuring stress levels, and training their ability to focus, relax and recover. The eVu TPS® sensor is an ingenious tool that relays the user's biometric data to the eVu® Senz companion app on an Android smartphone or tablet. Applying the sensor is a breeze because it easily rests on the user's finger, fastened by the accompanying fabric strap. Don't be fooled by its elegant design though, the...
Open the catalog to page 2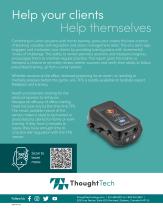 Help your clients Help themselves Combining in-clinic sessions with home training, gives your clients the best chance of learning valuable self-regulation and stress management skills. The eVu Senz app engages and motivates your clients by providing training plans with incremental levels of challenge. The ability to review previous sessions and measure progress, encourages them to maintain regular practice. The report gives the trainer or therapist a chance to remotely review clients' success and verify their ability to follow prescribed training, all from a smart phone. Whether anxious at...
Open the catalog to page 3
All Thought Technology catalogs and technical brochures

Compare up to 10 products