Catalogs

>

Multi-Conditioning System
Catalog excerpts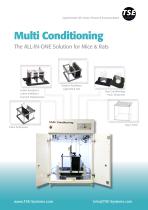 Sophisticated Life Science Research Instrumentation Multi Conditioning The ALL-IN-ONE Solution for Mice & Rats Active Avoidance Latent Inhibition Learned Helplessness Place Preference Passive Avoidance Light/Dark Test Fear Conditioning Panic Response Open Field
Open the catalog to page 1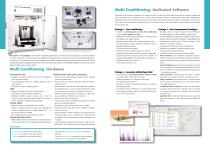 Multi Conditioning: Dedicated Software Depending on the behavioral paradigm you choose, the Multi Conditioning System offers three distinct software packages that can be purchased in any combination. Each of these software packages features a user-friendly interface with a highly flexible trial parameter selection window which guides the user step-by-step through experimental design. The software can control up to four test boxes simultaneously. Additionally, basic GLP functions such as user administration and the creation of an audit trail are included as well. Stimulus elements Flexible...
Open the catalog to page 2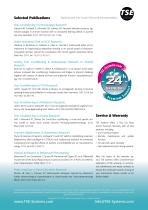 Selected Publications Sophisticated Life Science Research Instrumentation Fear Conditioning in Immunology Research Osborne BF, Caulfield JI, Solomotis SA, Schwarz JM. Neonatal infection produces significant changes in immune function with no associated learning deficits in juvenile rats. Dev Neurobiol. 2017 Oct;77(10):1221-1236. Active Avoidance Task in OCD Research Hatalova H, Radostova D, Pistikova A, Vales K, Stuchlik A. Detrimental effect of clomipramine on hippocampus-dependent learning in an animal model of obsessivecompulsive disorder induced by sensitization with d2/d3 agonist...
Open the catalog to page 3
All TSE Systems catalogs and technical brochures

Compare up to 10 products