Catalogs

>

TSI

>

SIDEPAK™ PERSONAL AEROSOL MONITOR MODEL AM520
Catalog excerpts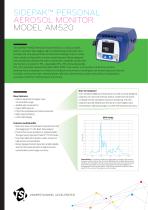 SIDEPAK™ PERSONAL AEROSOL MONITOR MODEL AM520 The SidePak™ AM520 Personal Aerosol Monitor is a small, portable, battery-operated, data-logging, light-scattering laser photometer that provides real-time aerosol mass concentration readings of dusts, fumes, mists, smoke and fog within a worker breathing zone. Newly designed inlet conditioners increase the mass concentration capability and provide size fraction cut points for PM10, Respirable (PM4), PM5 (China Respirable), PM2.5, PM1 and 0.8µm Diesel Particulate Matter (DPM). This monitor is the perfect solution for real-time, personal aerosol sampling in a variety of workplace environments, including but not limited to general industry, foundries, construction sites, chemical plants, refineries, petrochemical, power and utilities, transportation, aerospace, maritime, confined spaces and mining. New Features + Robust impactors for higher mass concentration range + Audible and visual alarms + 0.8µm DPM impactor + PM5 China respirable size fraction impactor + High capacity battery + Color OLED display Dare to Compare! User-settable audible and visual alarms as well as newly designed impactors, for more size fraction options, make this instrument a valuable tool for workplace exposure monitoring. The new impactors provide reliable size fraction at a much higher mass concentration, allowing a longer run time with improved accuracy. concentrations over longer run times Features and Benefits + Real-time mass concentration measurement and data logging for "in-the-field" data analysis + Push button menu operation or programmable through newly improved TrakPro™ v5 Software + User selectable alarm levels to alert workers to high aerosol concentrations + Newly designed robust impactors enable reliable size fraction measurements at higher aerosol Time History — Graphically displayed, logged data can display high and low exposure concentrations that cannot be identified with traditional gravimetric sampling. This example of actual customer data illustrates the value of seeing what time peak exposure occurred. This enables an industrial hygienist to investigate the cause of the spike at 12:00 and recommend corrective actions specific to the cause of the exposure without delay.
Open the catalog to page 1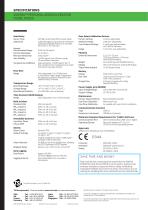 Sensitivity Sensor Type Calibration User-Select Calibration Factors Aerosol Concentration Range Particle Size Range Minimum Resolution Zero Stability Temperature Coefficient 90° light scattering, 650 nm laser diode Calibrated against a gravimetric reference using the respirable fraction of standard ISO 12103-1, A1 Test Dust 0.001 to 100 mg/m3 0.1 to 10 pm 0.001 mg/m3 ±0.001 mg/m3 over 24 hours using 10 second time constant Approximately +0.0005 mg/m3 per °C (for variations from temperature at which instrument was last zeroed) Factory Setting Ambient Setting User-Defined Settings Range 1.0...
Open the catalog to page 2
All TSI catalogs and technical brochures

Compare up to 10 products