Catalogs

>

Medical Isolation Chamber IC-8050
Catalog excerpts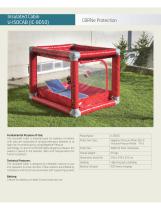 Insulated Cabin U-ISOCAB (IC-8050) Fundamental Purpose of Use: The Insulated Cabin is manufactured for isolation of patient with who are suspected of carrying infectious diseases or at high risk of transmission by using Negative Pressure technology. In case of confirmed highly dangerous disease, the patient is placed in the isolation cabin until transportation for further treatment. Technical Features: The Insulated Cabin is designed by inflatable columns to put into operation in a few minutes. These columns are inflated by compressor and this structure provides self-supporting system. Battery: Lithium-Ion battery can keep 5 hours continues use. CBRNe Protection Model Name : Protection Class : Negative Pressure Mode :BSL-4 Positive Pressure Mode :TH-3 Overall Weight : Dimensions (WxDxH): High Frequency Welding Battery Lifespan:
Open the catalog to page 1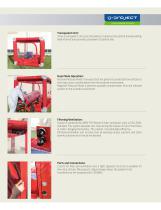 Transparent Unit: It has a transparent structure that allows to observe the patient during waiting. Wide internal area provides placement of patient bed. Dual-Mode Operation: Positive Pressure Mode: It ensures that the patient is protected from all factors that may cause contamination from the external environment. Negative Pressure Mode: It prevents possible contamination from the infected patient to the outside environment. Filtering/Ventilation: System is combined by ABEK P3 Filtered 4 filter-ventilation units in EN 12941 standard. The system operates non-stop during the failure of one...
Open the catalog to page 2
All U-PROJECT catalogs and technical brochures

Compare up to 10 products